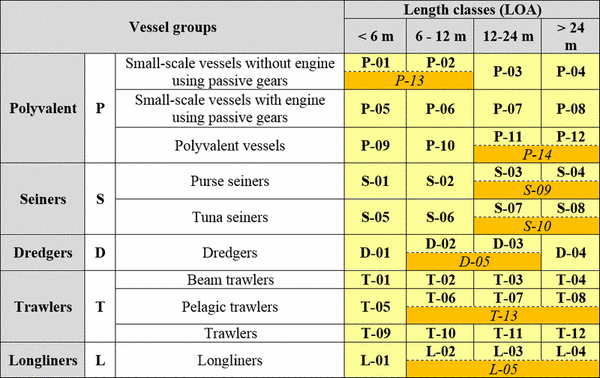 A vessel is assigned to a group on the basis of the dominant gear used in terms of percentage of time: more than 50 percent of the time at sea using the same fishing gear during the year.
"Polyvalent vessels" are defined as all the vessels using more than one gear, with a combination of passive and active gears, none of which exceeding more than 50 percent of the time at sea during the year.
A vessel is considered "active" when it executes at least one fishing operation during the reference year in the GFCM area of application.
The yellow cells contain the codes of reported fleet segments which should be included in the GFCM data submission. If necessary, fleet segments as identified in the orange cells can be used: P-13 (P-01 + P-02), P-14 (P-11 + P-12), S-09 (S-03 + S-04), S-10 (S-07 + S-08), D-05 (D-02 + D-03), T-13 (T-06 + T-07 + T-08) and L-05 (L-02 + L-03 + L-04). Any proposal for a different aggregation of fleet segments should be brought to the attention of the relevant GFCM subsidiary bodies, mentioning the rationale and corresponding references (e.g. existing scientific studies), which in turn should confirm the similarity/homogeneity of the combined cells.