Dong's Rice Fish Duck System, China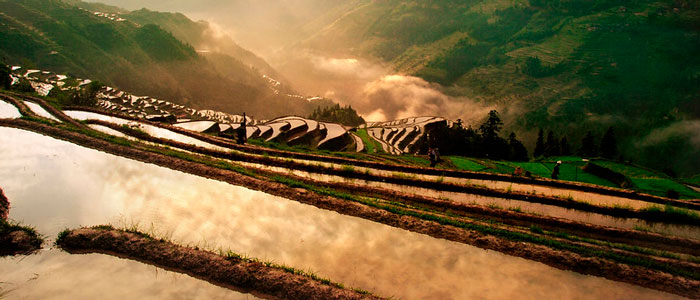 Congjiang County is located in Qiangdongnan Miao and Dong Autonomous Prefeture, Guizhou, China at vast mountain areas. This area has several ethnic minorities such as Miao, Dong, Yao, Zhuang and Shui, among others.
The Rice-Fish-Duck system has a long history with strong local and folk characteristics in Congjiang county. It is a unique mode of production and land use by Dong people on the basis of long-term exploration under the limited natural condition. Growing up rice, fishes and ducks at the same time in paddies is an excellent ecosystem beneficial for man-made sustainable development. It is also an economic system combined within a virtuous eco-cycle in which, many traditional methods of farming and folk customs are harbored.
This approach effectively saves land resources and achieves a natural three – dimensional agriculture by relieving the contradiction between human and nature, thus providing multiple goods and services. Due to the influence of modern economic and societal change, traditional values gradually fade away, the excellent agricultural traditional culture confronted with threats and challenges from many aspects.