Hani Rice Terraces, China
Hani Rice Terraces are located in the Honghe Hani and Yi Autonomous Prefecture, which is in the southeast part of Yunnan Province. People of various ethnic origin, with Hani being the main minority group, has built this spectacular agriculture and nature wonders. The magnificent Hani Terrace System is a masterpiece of the brilliant Hani minorities, who has lived in this remarkable landscape for over 1300 years. The terraces are mainly distributed along the south part of the Honghe Ailao Mountain and spread in four counties: Honghe, Yuanyang, Lvchun, and Jinping, covering an area of about 70,000 ha. Hani Rice Terraces are one of best examples to show farmers' wisdom in China. The Hani villages are built on the mountainsides, above the village are the flourishing forests and the terraces are just below the villages.
It is amazing that in the Hani Rice Terraces there are no reservoirs but water supply is abundant. The forest, village, terrace and river compose the typical ecological landscape of the Hani Rice Terraces. The Hani utilize and manage the local water resources in a unique, simple, economical and efficient manner and the water management has provided a guarantee for the sustainable operation of the Hani terraced rice farming system.
The Hani People, their indigenous agricultural technologies, their selection of the settlement site and their traditional customs for environment protection and conservation all show a harmonious relationship between human and nature, and their relationship in the human society as well.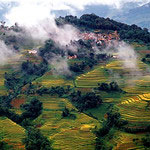 Cultural Landscape of Honghe Hani Rice Terraces
The Cultural Landscape of Honghe Hani Rice Terraces, China covers 16,603-hectares in Southern Yunnan. It is marked by spectacular terraces that cascade down the slopes of the towering Ailao Mountains to the banks of the Hong River. Over the past 1,300 years, the Hani people have developed a complex system of channels to bring water from the forested mountaintops to the terraces. Read more