Why GIAHS, Geographical Indications and Slow Food Presidia matter?
29 March 2021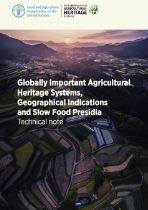 Rome. - When academics, stakeholders and decision-makers refer to these three approaches that recognize food systems' value, confusion often arises.   
In a joint effort to clarify these concepts, the Food and Agriculture Organization of the United Nations, Slow Food Presidia and the Aichi Gakuin University, Japan joined forces to flesh out the linkages between Globally Important Agricultural Heritage Systems (GIAHS), Geographical Indications (GI) and Slow Food Presidia. 
The technical note highlights each approach's specificities, it clarifies critical differences between them and explores possible synergies.
The publication entitled Globally Important Agricultural Heritage Systems, Geographical Indications and Slow Food Presidia aims to encourage farmers and governments to contribute to and support the conservation of these fragile and remarkable local food systems, while achieving the Sustainable Development Goals (SDGs). 
Safeguarding food and its traditions
Several international organizations have developed different approaches to recognize and preserve traditional and sustainable local food systems, highlighting not only the importance of the systems themselves but the key role and work of small farmers in providing precious economic and social services, and in maintaining these traditions and biocultural heritage for humanity as well as other benefits.
By strengthening a sense of identity, ownership and pride among farmers' communities, these approaches can significantly support these food systems. They can also prove indispensable for preserving local biodiversity and environment promoting sustainable and traditional knowledge related to agriculture and providing healthy and high-quality products to local markets.
Read more:
Photo Gallery