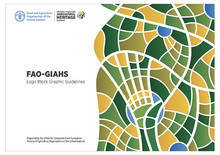 FAO GIAHS Logo Block Graphic Guidelines (EN)
This document provides guidelines for the correct application of the FAO-GIAHS logo block to ensure consistency of the GIAHS identity across internal and external communications. With this objective, the presented logo block must be incorporated as showcased in this document and in the "Guidelines, Form and Waiver of Liability for the use of the FAO-GIAHS Logo block".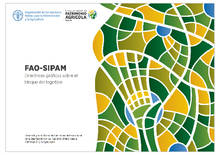 FAO-SIPAM. Directrices gráficas sobre el bloque del logotipo (ES)
En este documento se proporcionan directrices para la correcta aplicación del bloque del logotipo FAO-SIPAM con miras a garantizar la coherencia de la identidad del programa SIPAM en todas las comunicaciones internas y externas.Con este objetivo, el bloque de logotipo que se presenta debe utilizarse tal como se muestra en este documento y en el documento "Directrices, formulario de solicitud y declaración de descargo de responsabilidad para el uso del bloque del logotipo FAO-SIPAM"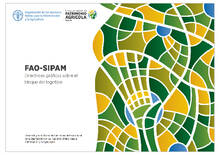 FAO-SIPAM Charte graphique du bloc logo (FR)
Ce document fournit des directives pour l'application correcte du bloc logo FAO-SIPAM afin d'assurer la cohérence de l'identité du programme SIPAM dans toutes les communications internes et externes. A cette fin, le bloc logo présenté doit être utilisé comme indiqué dans ce document et dans le document "Directives, formulaire de demande et déclaration de non-responsabilité pour l'utilisation du bloc logo FAO-SIPAM".