Welcome to the Global Soil Doctors Programme
A farmer-to-farmer training platform
The Global Soil Doctors Programme is a farmer-to-farmer training initiative that aims to build the capacity of farmers on sustainable soil management while supporting national governments and stakeholders in addressing the needs of their rural communities. This online platform underlines the importance of soil as a vital resource for farmers, policy makers, development planners, agricultural extension workers, NGOs, private sectors and any other practitioner/interested stakeholder.
For more information, please contact: Carolina Olivera Sanchez and Silvia Pioli
Latest stories
Introduction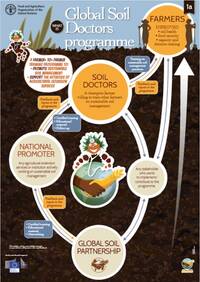 This website is designed as a source of information and knowledge on the different components and aspects of the Global Soil Doctors Programme.
The standard implementation of the Programme at the country level relies on the collaboration with a national promoting institution that ensures the scaling-up and sustainability of the programme in the long-term.
Besides official promoters, anyone can join the Global Soil Doctors Programme using the online educational material and guidelines to train farmers or just by sending its own material and experiences to be shared around the globe.
Promoters and independent actors who want to see their activities in the GLOBAL MAP can report them to the GSP though THIS FORM.
Implementing the Global Soil Doctors Programme
Different actors can contribute to the implementation of the programme according to their role and resources:
FAO's Global Soil Partnership (GSP) provides the methodology and the educational material for the Soil Doctors and trains the Soil Doctor trainers on the use of the Programme material. The GSP also promotes the exchange of experiences and the development and compilation of new educational tools in different languages.
Promoters are/can be governmental agencies, extension services, soil science societies, local/regional associations, NGOs, the private sector, universities/academia or any other institutions actively working on sustainable soil management (SSM). The promoters usually have the local knowledge, the financial resources and/or the support of the government to guarantee the implementation of the Programme at the country level and its sustainability in the long term.
Soil Doctors are champion farmers who assist and build capacity of other farmers in their community on the principles and practice of sustainable soil management (SSM) with the support of the promoter.
Farmer communities represent the final recipients of the Programme. They receive trainings and technical guidance on how to best manage their soils by the Soil Doctors.
Independent actors can also implement the Programme at any step, by downloading the educational material and guidelines or by providing translated material, newly developed tools, personal expertise and so on.
Discover the implementation sites!