Interactive Map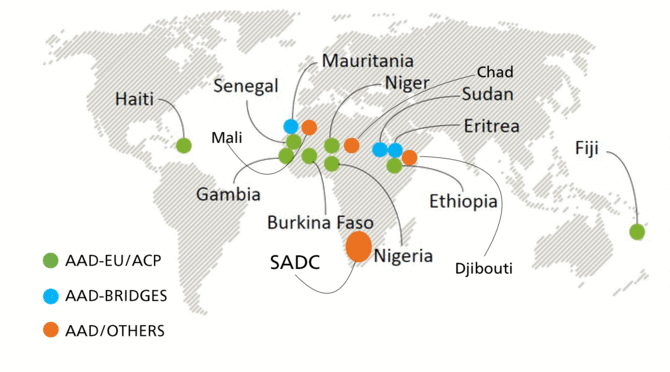 Action Against Desertification helps Burkina Faso, Ethiopia, The Gambia, Niger, Nigeria and Senegal in the sustainable management and restoration of their dryland forests and rangelands. These efforts build on a harmonized regional strategy for the Great Green Wall for the Sahara and the Sahel Initiative, developed by FAO and partners and on action plans for each individual country.
Action Against Desertification also covers the Caribbean and the Pacific, concentrating on Haiti and Fiji. In Haiti, the efforts address some of the major causes of land degradation, in line with Haiti's National Action Programme for the Implementation of the UN's Convention to Combat Desertification (UNCCD). Likewise, in Fiji, Action Against Desertification supports the Fijian National Action Programme for the Implementation of the UNCCD to build the resilience of forest landscapes and improve the livelihoods of the local population.
A new project aiming to restore 5 000 hectares of degraded land in Eritrea, Mauritania and Sudan in the next three years signals a widening of partnership between Turkey and FAO. The so-called BRIDGES project will run for three years and supports land restoration in Eritrea, Mauritania and Sudan, using Action Against Desertification's successful restoration method. Altogether, AAD BRIDGES strengthen ties between FAO, the Pan-African Agency of the Great Green Wall and the AUC.