First National Training on ''Agricultural Value Chain Financing''- Malawi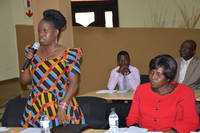 20/05/2017
Lilongwe, Malawi
On 28 March 2017, as part of the EU African Roots and Tubers Project, a two-day training on ''Agricultural Value Chain Financing'' has been organized in Lilongwe, Malawi.
The project is being implemented in the country, in support of the cassava value chain. More specifically, producers and processors of high quality cassava flour and of cassava wet cakes have been receiving support in the development of inclusive business models, through several capacity building initiatives. One very critical area that requests an intervention at project level is the lack of access to financial services for both producers and processors, to invest on their activities and take advantage of the growing markets.
In February 2016 a rapid assessment of the market showed that access to existing financial services (banks, credit unions and Micro Finance Institutions) do not reach this segment of the market due to very high interest rates and lack of guarantees of the potential clients.
Since then, the project has facilitated meetings between producers, processors and financial institutions, discussing and sharing ideas on how to address this issue.
The event followed this process and generated knowledge among participants, on potential innovative mechanisms to increase the provision of financial services to the cassava processors and producers. The training was led by Massimo Pera, Project Coordinator and Rural Finance expert, with the support of Mr Niclas Benni, rural finance consultant of FAO.
The workshop provided knowledge tools to managers and professional staff in the banking and financial services industry, involved in the design and delivery of financial services products for agriculture to develop inclusive and tailored instruments suitable to stakeholders in the roots and tubers chain.
This training equipped learners to develop cost-effective, and commercially viable product design and delivery strategies for financing agricultural activities with growth potential.
Trainings has been provided also to producer groups, farmer organizations, SMEs and seed multipliers to address constraints that limit access to finance and to develop bankable solutions according to R&T value chain dynamics.
As result of the workshop, a dialogue between financial institutions and SMEs has been initiated: one commercial bank is now appraising the request for equipment loans from 7 High Quality Cassava Flour SMEs identified as profitable business opportunities. The role of the Roots and Tubers project as a facilitator between the supply and the demand has been again crucial for facilitating provision of services to cassava SMEs.
The workshop report will be available soon.