Publicaciones
La República de Costa Rica es un país de América Central extensamente cubierto por bosques tropicales que exhiben una alta biodiversidad. El país ha realizado muchos esfuerzos por conservar sus bosques y su biodiversidad aunque, en muchos casos, los recursos agrícolas y forestales se han evaluado de manera independiente.
"Building global capacity to increase transparency in the forest sector (CBIT-Forest)" is a two-year-long FAO project under the Capacity Building Initiative for Transparency (CBIT) trust fund of the Global Environment Facility (GEF).   The global project will strengthen the institutional and technical capacities of developing countries to collect, analyze and disseminate forest-related
...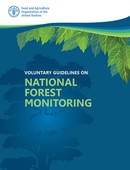 The voluntary guidelines on national forest monitoring aim to present a general framework for the compilation of good practice principles, methodologies and tools for planning and implementing a multi-purpose national forest inventory and to establish long-term forest monitoring systems grounded in sound practice. The guidelines are designed as a technical reference or framework that
...