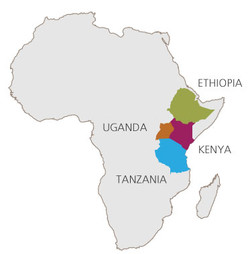 East Africa
Livestock is one of the main sources of livelihoods for smallholder farmers and pastoralists in Eastern African countries. Livestock does not only provide food security, income and employment, but it is also associated with cultural, social, and religious aspects.
Ethiopia, Kenya, Tanzania and Uganda, together, hold the largest cattle herds in Africa, which are estimated at 121 million stocks, representing almost 40 percent of the total African cattle herd.
Livestock is one of the main economic activities, accounting for about 26 percent of the regional agriculture GDP.
Within the livestock sector, the dairy cattle herd is composed of 78 million head distributed in an area of more than 118 million hectares, producing approximately 11 million tonnes of milk per year.
Milk consumption varies greatly among countries, but milk represents on average 80 percent of total animal food supply and contributes to 4 and 8 percent of the total daily calorie and protein intake, respectively.
Socio-economic importance of dairy sector
*Policy Brief: IGAD Center for Pastoral Areas & Livestock Development (ICPALD). 2013. Policy Brief No: ICPALD 8/SCLE/8/2013.