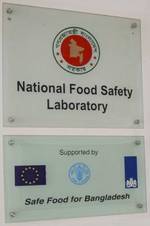 The Project has established and operationalized the state-of-the-art National Food Safety Laboratory (NFSL) at the Institute of Public Health in Dhaka. The NFSL has been declared as the national reference laboratory by the Ministry of Health and Family Welfare with a mandate for developing validated methods of analysis, conducting research and providing analytical services to customers. It is recognized as a centre of excellence by the High Court of Bangladesh with repeated references for analysis and advice on scientific issues related to food safety. The NFSL has developed the capacity to detect over 100 chemical and microbiological contaminants with 15 analysts having been trained intensively both in Bangladesh and abroad.
The Project has also established the Bangladesh Food Safety Laboratory Network comprising more than 20 food analysis laboratories all over the country. Capabilities at five other laboratories – Bangladesh Standards and Testing Institution, Bangladesh Agricultural Research Institute, Department of Food, Dhaka University (Chemistry department) and Central Disease Investigation Laboratory – that are involved in food safety testing in the country have been enhanced by provision of training and equipment.
The Project is currently supporting the ISO17025 accreditation process of the NFSL and aims to support similar efforts for other selected laboratories. It will support activities to ensure that NFSL becomes self sustaining through income from its services and develop reporting systems of the evidence being generated for action at higher levels, especially the Bangladesh Food Safety Authority.