Risk-Based Food Inspection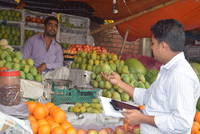 The Project's goal is to develop and implement risk-based inspection activities, enforced by properly trained, resourced and supervised food inspectors. Food inspection has been significantly enhanced by the development of inspection manuals and guidelines and the training of nearly a 1000 inspectors from six Ministries – Health and Family Welfare, Local Government, Industries, Finance, Fisheries and Livestock as well as Agriculture – in risk-based food inspection, planning and sample collection. Inspectors are now implementing risk-based food inspection across the country and are also being authorized by the Bangladesh Food Safety Authority. Further, in keeping with the requirements of a modern food control system, the curriculum and teaching modules for the Inspectorship diploma of the Government of Bangladesh has been upgraded.
The Project is now enhancing the efficiency of the inspection services and developing accountability frameworks for inspection services to address good governance issues. Strengthening food safety controls at the primary production level, the introduction of standardized inspection procedures and practices, communication and collaboration between the enforcement agencies are part of the Project's objectives. The Inspectorship course is to be upgraded to a university degree with appropriate quality enhancement of the course.