Policies and Institutionalisation of Food Safety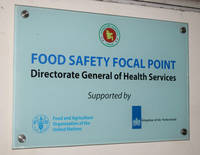 Food safety is recognized as a priority issue by the Government of Bangladesh with a view to reduce the burden of food-borne diseases on public health and increase national productivity. The Ministry of Health and Family Welfare has set up a Food Safety Unit within the Institute of Public Health of the Directorate General of Health Services. For strong coordination of the activities related to food safety and a visible impact, this Unit is being supported to develop technical and managerial capacity to tackle food safety issues.
Within the Ministry of Health and Family Welfare, an institutional structure headlined by a high level Food Safety Working Group has been set up. Focal points have been established within the DGHS and the Ministry to co-ordinate on food safety issues. Technical assistance has been provided to develop strategies and actions for prevention and control of food adulteration and contamination. A Food Safety Documentation Centre has been set up in the National Health Library.
The Project is continuing its advisory support to the FSWG and assisting it in developing capacity and skill development plans notably in the areas of laboratory analysis, risk-based food inspection and food-borne illness surveillance.