Malawi
SHORT BACKGROUND
The government of Germany is funding in Malawi a USD 3.3 million project to take place in the years 2021–2024, focused on increasing the economic, ecological and climate-related benefits from large-scale forest and landscape restoration (FLR). This project is part of a larger programme also funded in Cameroon, Kenya and Rwanda. The project was designed in support of the Government of the Republic of Malawi's ambitious target of 4.5 million hectares (ha) – nearly half of the land area – for restoration under the Bonn Challenge and the AFR100 initiative, and in support of Malawi's National Forest Landscape Restoration Strategy and National Charcoal Strategy (2017).
The Food and Agriculture Organization of the United Nations (FAO) has been designated by the Governments of Germany and Malawi to coordinate work on this project in the country. Other international partners funded by the project include the International Union for Conservation of Nature (IUCN), World Resources Institute (WRI), and the World Bank. The focal district in Malawi for work was designated as Ntcheu.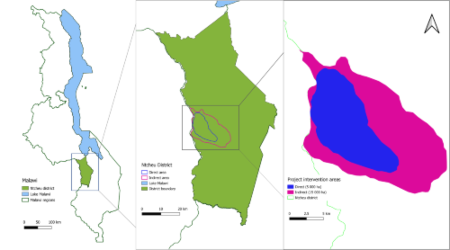 IMPACTS
Output 1: Districts, local services, women and men, and farmers'/communities' associations for local governance, planning and execution of FLR have restored through direct interventions on 5 000 hectares, with impact on 25 000 hectares of degraded land in a landscape in Ntcheu district.
Output 2: 40 percent of the pledged 4.5 million hectares in Malawi (Bonn challenge/AFR 100 process) are prepared for FLR through landscape-level opportunities assessment, shifting incentives and policies to trigger FLR, strategy development, link into existing national coordination platforms and dialogues, nationally determined contributions, land degradation neutrality (LDN), cross-sector coordination and catalytic levers.
Output 3: Additional funds from the International Development Association (IDA) and national budget allocation are available for FLR in Malawi. The private sector in Malawi is informed on opportunities for FLR interventions.
Output 4: In Malawi, FLR knowledge is further developed and shared and the progress towards FLR implementation is monitored to increase the ambition level for FLR.