Supplies may become tighter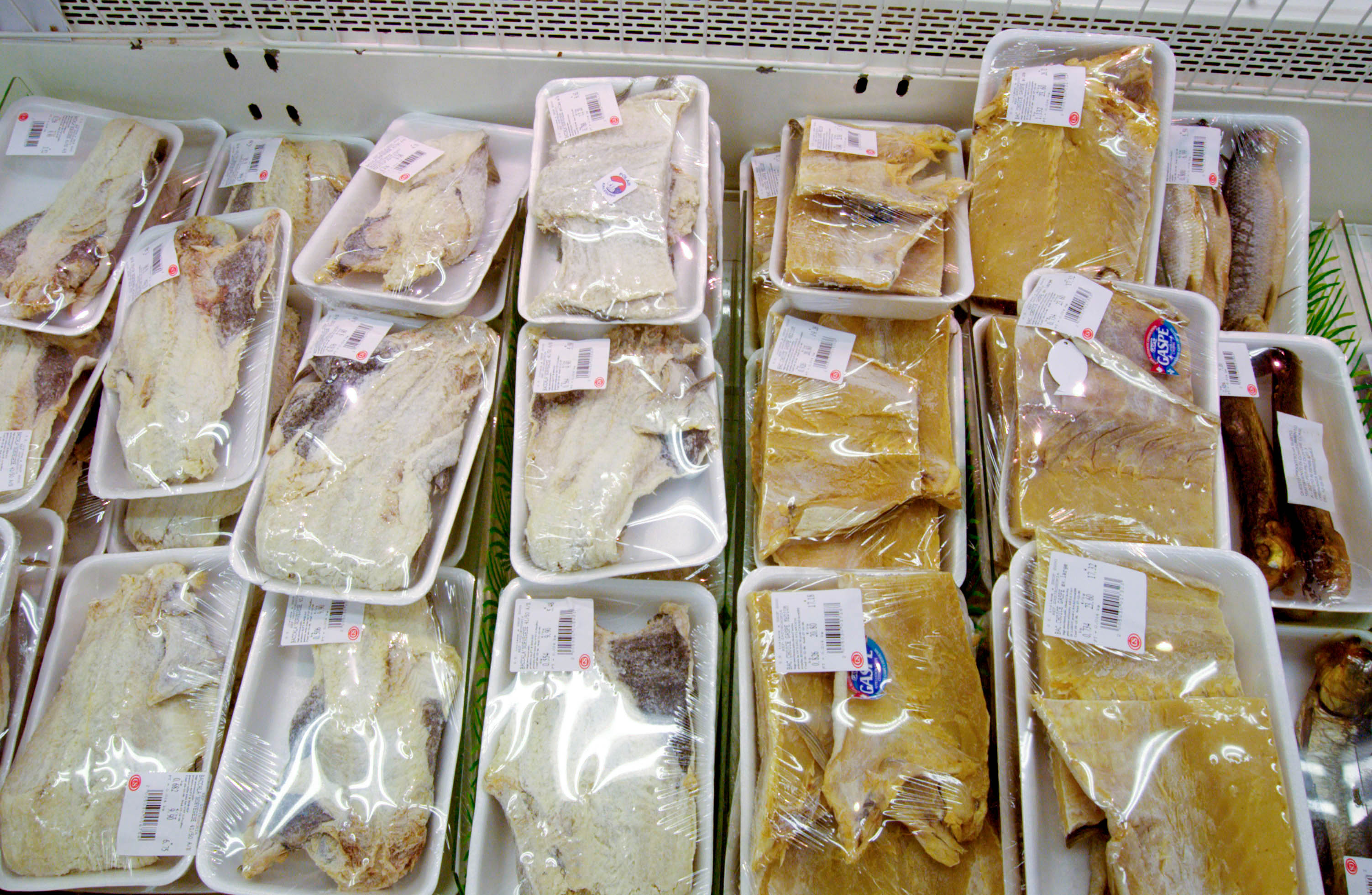 16/12/2021
There has been some turbulence on world groundfish markets lately. Norway lost the Marine Stewardship Council (MSC) certification for inshore cod and haddock, which decreases the demand for this fish in certain markets. In the Alaska pollock fishery there have been problems with recruiting labour, and the fish has been very small, making it unfit for filleting. Supplies of fillets may therefore become tight. On top of everything, there have been serious transport and logistic problems affecting trade.

Norway may be facing a difficult market situation because it has lost the MSC certification for cod and haddock in inshore waters. So far, there have been no serious consequences, but exporters fear that the worst is yet to come. Any fish caught within the 12 nautical mile Norwegian zone will now have to be shipped without the MSC logo, and this may cause great problems in some environmentally conscious markets. Norwegian exporters face losing customers in these markets, or they may have to secure supplies caught outside the 12 nautical mile zone.

Supplies

The European North Atlantic Fisheries Association (ENAFA) is preparing a lawsuit against Norway to counteract the Norwegian unilateral quota allocations in setting quota allocations, including the quota reductions in the Svalbard zone. In December 2020, Norway cut the EU cod quota in the Svalbard waters from about 35 000 tonnes to 17 885 tonnes. The European Commission responded in early 2021 by setting the EU quota at 28 431 tonnes.

Scottish fishers have warned the United Kingdom of Great Britain and Northern Ireland and Scottish authorities against cutting next year's cod quota in the North Sea in accordance with the advice of the International Council for the Exploration of the Sea (ICES), which has recommended a quota cut by 10.3 percent for 2022, to 14 276 tonnes.

Russian production of H&G pollock has dropped by 27 percent as of early August this year, while production of Alaska pollock fillets were up by 35 percent due to strong demand and high prices. The overall Russian pollock production was down by 18 percent, though. Another part of the Russian Bering Sea pollock fishery has been MSC certified, and this means that more MSC-certified pollock fillets from the Russian Federation will be available on the market during the second half of 2021.

The Russian pollock industry has a new strategy to produce more processed products, for example single frozen blocks and value-added products, and less H&G Alaska pollock. Russia wants to process more fish domestically, which means that they will export less fish to China for processing. This strategy may threaten US dominance in the Alaska pollock market, and it may also threaten China's position as a processor of this fish. As much as 94 percent of the Alaska pollock is caught by the Russian Federation and United States of America, and until now a large share has been processed in China, especially of the Russian fish. Russian exports of H&G Alaska pollock to China are expected to be strongly reduced over the next few years as more processing will be done in the Russian Federation.

In the United States of America, the B season for Alaska pollock started in early June, but the Alaska pollock sector is facing challenges with recruiting labour because of the COVID-19 pandemic. In addition, the size of the fish caught in Alaska has been rather small, making fillet production more problematic. However, the Alaska production of surimi was up by 17 percent as of mid-July, compared to the B season in 2020. Raw surimi prices have been high. The small size of the Alaska pollock caught in Alaska is likely to cause a tight fillet supply situation later in the year.

Market

The COVID-19 pandemic has had a huge impact on the transport sector, which in turn has become a big problem for the whitefish industry. The global shortage of containers, and the very high rates which is a consequence of this shortage, are posing problems for the industry. The pandemic has caused a boom in demand for consumer products, but the availability of containers to ship these products has become very tight. And rates have gone up by extreme amounts. Prior to the pandemic, the cost of shipping a 40-foot container from China to the European Union was about USD 2 000, but now the rate is at USD 13 000 – 14 000. Consequently, profit margins for the producers/exporters have been squeezed very hard. Some observers believe that prices for Alaska pollock fillets could soon reach over USD 4 000 per tonne.

The transport problems have led to a difficult situation for US processors who cannot get enough raw material for processing. It was reported that the industry had less than 30 days of raw material for processing in storage at the beginning of September.
The Russians are also feeling the transport shortage, and some producers have started shipping Alaska pollock from the Russian port of Vladivostok by trans-Siberian rail to St. Petersburg, for further shipment by sea from there to Western European markets.

As cold storage holdings of frozen Alaska pollock were building up on the Russian Pacific coast, federal authorities in the Russian Federation started subsidizing rail transport in order to expedite the shipments across the Russian Federation to Europe.

In 2022, production of frozen Alaska pollock fillet is expected to increase by some 16 percent in the United States of America, to 175 000 tonnes, while Russian production is expected to increase by 23 percent to 130 000 tonnes.

Surimi

Global surimi prices are high in spite of increased supply in the United States of America in the beginning of the B season, thanks to the small size of the fish, which is less suitable for filleting. By the end of the B season, it is expected that surimi production will have risen to about 190 000 tonnes in Alaska. This would help the supply situation, but it is not expected to last, as many processors are expected to go back to fillet production in 2022.

Demand for surimi is rising in other parts of the world, too, and this is further pushing prices. Other factors that have contributed to rising prices are higher distribution costs and depreciation of the Yen.

Alaska pollock is just one source of raw material for Japanese surimi. Golden threadfin bream (itoyori) from Southeast Asia is another important source of raw material. While prices for pollock surimi from Alaska have been very high, iyotori surimi prices have been rather stable. Therefore, some surimi producers in Japan are increasingly looking at alternatives to Alaska pollock.

Vietnamese surimi exports during the first five months of 2021 rose by 37 percent compared to the same period in 2020, amounting to USD 160 million. The main markets for Vietnamese surimi were the Republic of Korea, followed by Thailand. Viet Nam is exporting surimi to 39 countries, mostly in Southeast and East Asia.

Trade

During the first half of 2021, Norwegian exports of whole frozen cod increased by 10.9 percent, to 33 193 tonnes. Exports to the largest market, China, were slightly down, while exports to Lithuania were up by almost 17 percent. Imports of whole frozen cod into the Netherlands declined by 17 percent during this period, to 21 566 tonnes. Most of this decline was due to a 30 percent drop in imports from Norway.

China as a large processor of groundfish for the European and North American market saw reduced activities during the first six months of 2021 compared to the same period in 2020. China's imports of whole frozen cod fell by 22.4 percent to 62 703 tonnes. All the major suppliers experienced a drop in shipments: the Russian Federation by 20.6 percent to 36 428 tonnes, Norway by 11.2 percent to 13 830 tonnes, and the United States of America by 53.8 percent to 6 229 tonnes.

Chinese exports of frozen cod fillets also declined during this period, down by 9.8 percent to 43 674 tonnes. While most markets experienced just minor changes, exports to the United States of America fell by 12.3 percent to 14 914 tonnes.

Russian exports of whole frozen Alaska pollock decreased by 35 percent during the first half of 2021 compared to the same period in 2020. And there were some massive changes in the direction of trade. Russian exports to the Republic of Korea increased by 192 percent to 234 163 tonnes, while exports to China dropped by 81 percent, from 420 251 tonnes in 2020 to just under 80 000 tonnes in 2021.

China's imports of whole frozen Alaska pollock also dropped significantly: from 458 115 tonnes in the first six months of 2020 to 163 944 tonnes in 2021 (-64.2 percent). Almost all of this reduction was caused by a 65 percent drop in imports from the Russian Federation.

Prices

Catching of cod and haddock was slow in September, and consequently prices were quite firm. Prices of Barents Sea cod in China have been on the rise since February 2021, although they have not yet reached the levels recorded in 2019. Barents Sea haddock prices, on the other hand, are above the 2019 levels.

Outlook

Over the coming months, supplies of Alaska pollock may become tighter because of several problems, including reduced production of fillets in Alaska, problems with shipping raw material to Chinese processors, and the lack of containers for sea transport to markets. Prices may rise as a consequence of both a tighter supply situation and massive increases in shipping costs.

In the cod sector, there are disputes between Norway and the European Union regarding quota allocations in the Svalbard zone. Furthermore, there may be cuts in quotas for cod for next year.

Prices are expected to rise for most products.