Shrimp prices up due to high freight rates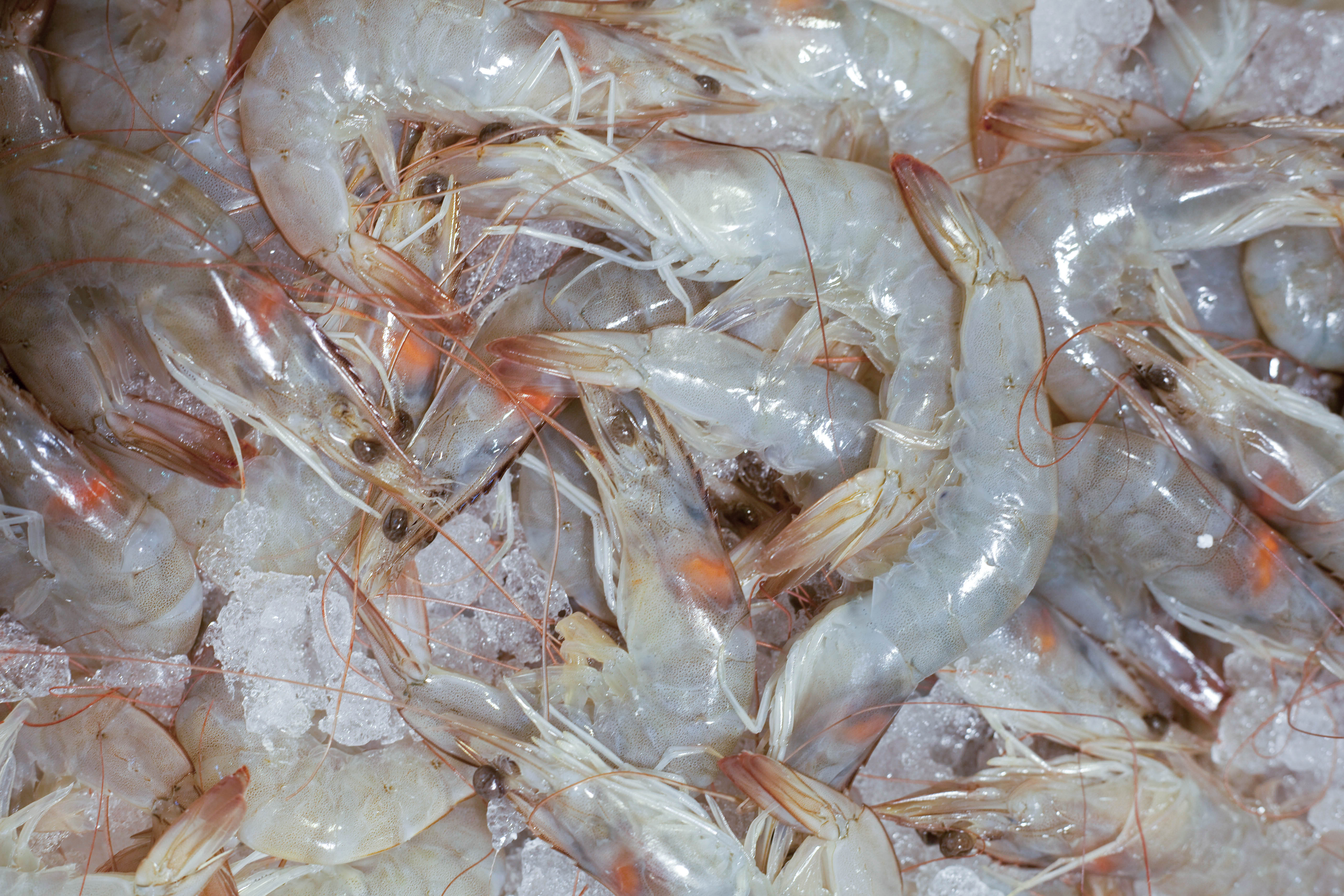 16/12/2021
Strong demand in the United States of America and European Union kept international shrimp trade firm at stable prices during the first nine months of the year. The trend is likely to continue for the rest of 2021.

Supply

Raw material supplies in Asia were unpredictable during July–September of 2021. In India, production was adequate for export processing, although there were reports of disease occurrence in some areas. Supplies remained moderate in Indonesia. In Viet Nam farm shrimp production as well as exports have been seriously disrupted by the COVID-19 outbreak and subsequent restrictive measures. Production in Thailand was also low and resulted in a 165 percent rise in frozen shrimp imports (25 000 tonnes) for export processing. Farmed shrimp production in Ecuador remained stable with increasing exports.  

After good catches during June-August, shrimp fishing in Argentina started to slow down from September due to severe logistical challenges in the supply chain (a shortage of containers for shipments to the European Union). As a result, cold-storage holdings in Europe remained limited. In the United States of America, shrimp landings in the Gulf of Mexico during January-June 2021 were 11 611 tonnes, the lowest level recorded in the last 20 years.
Meanwhile, container shortages for exports remains a major challenge worldwide.
International Trade
Since early 2021, international freight costs from Asia to North America for 20-foot and 40-foot containers shot up by 500-700 percent (at USD 13 000 and USD 20 000 respectively) due to persistent shortages of frozen food containers. To meet year-end demand exporters are forced to pay for increased shipping costs, with some even paying USD 25 000 per container or even higher to get their space for shipping confirmed.

Nonetheless, international shrimp trade remained steady with increased imports, particularly in the western markets.  

Exports  

Shrimp exports increased from most countries including China, but slowed down from Viet Nam and declined in Thailand due to raw material shortage and restrictive measures in both countries to combat the COVID-19 outbreak.

Ecuador, the top exporter, sustained positive sales growth during the first half of 2021. Increased exports to the United States of America and the European Union significantly compensated for export shortfalls to China, its top market. Shrimp exports also increased from India, Indonesia and Argentina.

For the first time in many years, China reported increased shrimp exports  during the first half of 2021.  

Imports

Steady retail demand and the reopening of the foodservice sector in the United States of America and European Union have kept the international shrimp market strong during the second and third quarter of 2021. Imports increased in most large and medium markets but China.        
Europe
Since April, demand in European markets remained strong for popular fisheries and aquaculture products including shrimp, while stocks in many markets were limited. Business in the HORECA sector resumed across the European continent while people were extremely eager to eat out again after staying indoors for over a year. The main tourist countries, Italy, Spain and Greece, reported very good demand with reservations in the HORECA sector exceeding those of pre-COVID-19 years. The reopening of restaurants combined with a variety of other foodservice activity has boosted summer demand in particular for high-end fisheries and aquaculture products including shrimp.
In response to this strong demand, shrimp imports during January-June 2021 in the European Union reached a 5-year high at 367 300 tonnes, an increase of 16 percent compared to same period of last year. Imports increased in every market except Austria and Malta.
Supplies from the non-EU sources had a 78 percent share in total imports at 254 830 tonnes during this period. Frozen raw shrimp imports (shell-on and peeled) increased significantly at 220 390 tonnes (+14 percent), whereas the growth was small for processed shrimp (+2.4 percent; 34 625 tonnes). Among the top sources, Ecuador had a 24 percent market share in total extra-EU imports followed by India (12 percent), Greenland (12 percent), Viet Nam (10 percent) and Argentina (8.7 percent).

Shrimp demand was equally strong in the Russian Federation where imports increased by 74 percent at 41 690 tonnes during the review period. Among the others, the United Kingdom of Great Britain and Northern Ireland reported a rise in imports (+8.6 percent; 32 855 tonnes) but the trend in the high-end Swiss market remained flat (+0.90 percent ; 3 455 tonnes) against the same period in 2020. In Ukraine imports increased by 97 percent at nearly 10 000 tonnes compared with 4 800 tonnes a year ago.  
United States of America
The world's single largest market for shrimp, the United States of America, remained strong during the first three quarters of 2021. Continuity in the robust retail trade and full reopening of the foodservice sector generated good sales from spring to summer (April to August).  
To ensure enough supply in the total distribution chain, an additional 100 000 tonnes of shrimp were imported into the United States of America during January-June this year compared with same period of 2020.
Cumulative imports during January-June 2021 were 30.6 percent higher at 404 360 tonnes worth USD 3.4 billion. Peeled shrimp had the highest share (44 percent; 180 000 tonnes) in total imports followed by shell-on (31.6 percent; 127 700 tonnes), cooked shrimp and other processed preparations (15 percent; 61 345 tonnes) and breaded shrimp (7.17 percent; 29 160 tonnes). Small head-on, cooked peeled tail-on, and ready-to-eat products have been the most demanded items in the retail trade.
Supplies in the market are dominated by Penaeus vannamei shrimp from Latin America and Asia. Imports of black tiger shrimp are largely supplied by Bangladesh, Indonesia, and Viet Nam and have increased in recent months along with improved business in the restaurant trade.

Imports from the top four exporters namely India, Ecuador, Indonesia, and Viet Nam, increased by two-digits. India increased supply by 28 percent but lost market share compared with 2019 and 2020.
Ecuador had the highest export growth (+86 percent) to the US market and increased market share from 13 percent in 2019 to 22.4 percent. There were significant increases in exports of the main product groups (shell-on by 70 percent, peeled by 122 percent, and breaded by 110 percent).
In general, increases in imports supports the strength foodservice sector but the actual concerns are the skyrocketing freight costs, logistical challenges and seasonal low supplies in Asia. So far large importers/distributors have been shouldering the high freight rate. However, in future the additional costs will likely to transferred to end users.
China
For the first time in three years, shrimp imports slowed down in China during January-June of 2021. The average monthly imports during this period declined from 53 000 tonnes in 2020 to 48 000 tonnes this year suggesting slow domestic consumption and high stocks in the market.

Since September, overall demand started to improve in the HORECA sector due to the mid-autumn festival in September and the weeklong National Day celebration or Golden Week Holiday from 1 -7 October (the longest public holiday in China besides the Chinese New Year). Reportedly, trade inquiries for Ecuadorean shrimp have increased from September following reduced local stocks.

Japan

Unlike the western markets, summer demand for shrimp in Japan was disappointing this year due to the COVID-19 restrictions.

Compared with 2020, imports  increased marginally (+4.4 percent; 94 000 tonnes) during January-June 2021 associated with better demand for processed shrimp. The top exporters to the market was Viet Nam, Indonesia, India and Thailand.    

Since early October, the catering trade has started to procure supplies in preparation of better business opportunities during the year-end high consumption season.

Others in Asia-Pacific

With improvements in the pandemic situation and easing of restrictions in the restaurant trade, overall demand improved in most of the regional markets. Imports increased in the Republic of Korea, Taiwan Province of China, Hong Kong SAR, Malaysia, and Singapore. Interesting to note is the rise in exports from Ecuador to these markets during the review period.
Imports in Australia were 30 percent higher in January-June 2021 against the same period last year. Viet Nam was the top supplier.
Prices:
Ex-farm prices of shrimp remained stable until July in the producing countries but started to rise from August in view of lower supplies in Asia. In the international trade the high freight cost has added USD 0.70 - USD 0.80 per kg (import prices) for products going from Asia to North America and Europe.

In Ecuador, the average export prices have risen to around USD 6.00 per kg, the highest level recorded since December 2018 amid strong demand from European and US markets.

Outlook

Farmed shrimp harvest in Indonesia will likely be good in October/November. But for the rest of Asia, October-February/March will be, as usual, the low production season. In Latin America farming will be in full swing until early March in favour of Ecuador, the largest producer/exporter.
US production of domestic wild-caught shrimp that generally contributes 5-10 percent in total shrimp supply in the market, will be lower this year affected by Hurricane Ida in September. The increase in fuel prices will also make production cost rise for sea-caught shrimp.  
In the international trade, import contracts for year-end sales will be completed by late November. Ecuador has a greater chance to move more products to many markets for year-end sales because of steady supply and closeness to the western markets compared with Asian shrimp suppliers.
High freight costs, transportation disruptions (bottlenecks at seaports,  shortages of lorry drivers in some countries of Europe and the United States of America) are likely to cause steady rise in shrimp prices at the wholesale level. Shipping prices will remain high possibly until the summer 2022.
However, overall shrimp demand will be good in most markets during the year-end holiday season. In East Asia the two New Year celebrations (Gregorian and Lunar) will keep regional demand strong until February 2022.