Shrimp - Japan - February 2010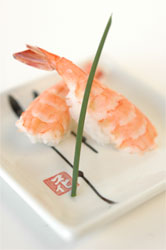 01/02/2010
Thai shrimp production is estimated to have reached about 540 000 tonnes in 2009, an increase of 9% compared with 2008, while total exports of shrimp in the first ten months of 2009 grew 8% in terms of value.
limate change and the economic crisis impact shrimp production
Thai shrimp production is estimated to have reached about 540 000 tonnes in 2009, an increase of 9% compared with 2008, while total exports of shrimp in the first ten months of 2009 grew 8% in terms of value. This contrasts with the announcements made at the beginning of 2009 that the Thai shrimp sector would cut its production by 20% to 396 000 tonnes, in order to cope the international crisis. However, Thai shrimp exporters managed to gain market share in the US benefitting from the supply problems suffered by Indonesia, the US second supplier. According to the Thai Shrimp Association, the forecast for 2010 is for a similar level of production, although national authorities are aiming for a 5% growth rate.
Packers in southern Viet Nam faced a serious raw material shortage during the fourth quarter of 2009 as farming in the Mekong Delta fell by 30% compared with 2008. Raw material prices increased by 10-15% and many packers operated 30-50% below their production capacity. November-March is the low season for farmed shrimp in Viet Nam, with the new season only commencing in April. For many farmers, the supply outlook is still bleak because of lack of access to finance. However, the industry forecast predicts a better supply situation in 2010.

Shrimp farms in the southern state of Andhra (India) were seriously affected by heavy rains in late November 2009 and premature harvests collected mostly 31/40 to 80/120 sizes. Current supplies of farmed shrimp are very low in the southern and eastern aquaculture areas. The mandatory farm registration with MPEDA (Marine Product Export Development Authority of India) is effective from December for all brackish water shrimp aquaculture (black tiger and vannamei) operations. Export processors are allowed to buy raw materials from registered farms only.

Shrimp supply in Indonesia was badly affected by disease in 2009. Conflicts between farmers and exporters also added to Indonesia's supply problems. Total shrimp culture production fell from 230 000 tonnes to 180 000 tonnes. Initially the government allowed imports of vannamei (raw material) in order to enable exporters to fulfil their orders, but, as a result of protests by farmers, this was banned in December 2009, and the government gave its support to increasing local production of shrimp, including intensive vannamei farming. The Ministry of Maritime Affairs and Fisheries is encouraging the use of locally produced vannamei broodstock as a means of combating the diseases which affect imported broodstock.
Good demand in Japan
Compared with the same period last year Japanese household consumption of shrimp during January-August increased by 8.3% to 1 309 grams - 100 grams more than the same period during the previous year. Promotional campaigns by supermarkets for black tiger shrimp were effective during the spring and summer festival seasons and retail prices were much lower as a result of the strong yen appreciation against the US dollar. Increased consumption of black tiger shrimp showed that the Japanese prefer black tiger shrimp to farmed vannamei, particularly when it is affordable to average consumers.
Good business was reported during the 2009 year-end festival sales. Compared with headless products, demand was strong for head-on shrimp which are used for New Year celebrations and traditional family dinners at home. However, consumers avoided high quality seafood products and opted for the medium grade seafood including shrimp, which is a sign of conservative spending in the recession hit economy.

In contrast, demand for shrimp in the restaurant business remained dull for the whole of 2009. As a result, demand for value added shrimp products did not recover much in 2009. Demand for sushi ebi from the restaurant market segment was 5-10 % lower than 2008. The catering trade also remained weak on the whole in 2009.

Overall shrimp imports increased marginally, supported by the strong yen, lower landing costs in Japan, reduced retail prices and improved demand from households. Restaurant business remained highly seasonal; the period of brisk demand was also short in the catering trade compared with the other years. In the first nine months of 2009, some 189 000 tonnes were imported in line with 2008 and 2007 imports.
Both major exporters of shrimp to the Japanese market - Indonesia and Viet Nam - reported lower exports of shrimp in the first nine months of 2009. Supplies improved from India and Myanmar, as these were mostly the preferred black tiger shrimp. Thailand exported more vannamei shrimp to Japan with the major share of these exports being semi-processed products.

In the import trade, the strong yen will support occasional purchases for the Japanese market, earmarked for spring sales in April. Considering seasonal harvests will be low until April, and high consumption is expected during the Chinese New Year (14-15 February), shrimp markets are expected to be firm in the coming months.
Report prepared by Fatima Ferdouse (INFOFISH)