Strong global trade for canned tuna persisted throughout 2020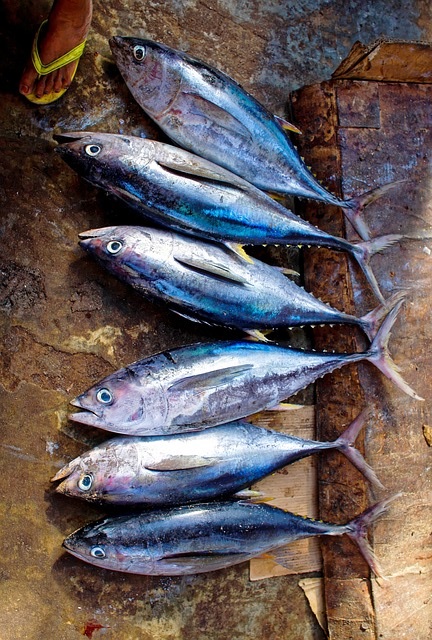 07/04/2021
Consumption of inexpensive and shelve-stable canned tuna increased worldwide in 2020 and generated brisk international trade. Demand for frozen raw materials also increased from the large production bases in Asia and Europe to meet growing demand. The noncanned tuna market, however, remained suppressed along with restricted catering trade due to the COVID19 crisis.

Supply

Fishing logistics were disturbed due to the pandemic crisis while tuna canneries worldwide needed more raw material to match increased market demand. During the last quarter of 2020, catches in the major oceans were low to moderate keeping raw material prices stable.

Raw Material Imports

Supported by the positive consumption trend for canned tuna worldwide, demand for raw tuna and semi-processed cooked loins increased in 2020 from tuna canners in Southeast Asia and Europe.

During first nine months of 2020, frozen skipjack, yellowfin, albacore, and tongol imports in Thailand increased by 12.7 percent to 460 720 tonnes while cooked loin imports for reprocessing increased by 17.5 percent to 32 320 tonnes.

Spanish tuna canners procured more semi-processed raw material (+8.6 percent at 87 790 tonnes) and less raw frozen tuna (-5 percent at 121 860 tonnes) during this period.

Tuna processors in the Philippines also imported 30 percent more skipjack (89 000 tonnes) for processing cooked loins and canned tuna. However, there was a 28 percent decline in frozen yellowfin imports (32 000 tonnes) because of falling demand for non-canned tuna, particularly for Carbon Monoxide (CO) treated fillets and steaks by the US market. Total imports of frozen tuna in the Philippines during the review period were 123 330 tonnes (+1 percent).

Fresh and frozen tuna market (non-canned)

Unlike the canned tuna sector, the pandemic wiped out consumer demand for high value non-canned tuna in 2020, particularly in the hotel, restaurant and catering (HORECA) sector. In comparison, retail demand for ready-to-eat and ready-to-cook products (frozen sashimi/sushi platers, frozen tuna fillet/steaks) in Japan, North America and Europe was less affected.

Japan

The impact of the coronavirus pandemic has been severe on Japan's sashimi tuna trade. Cancellations and postponement of ceremonies, business dinners, and social gatherings affected sales volume in the wholesale and catering trade. The Japanese restaurant industry reported a 60-70 percent drop in revenue. There has been some improvement in home consumption but not sufficient to make up for losses in foodservice sector.

Sashimi tuna imports into Japan declined by 16.6 percent during January-September 2020 in comparison with the same period of 2019. Air-flown fresh tuna imports dropped significantly (-31 percent). For frozen tuna, whole/dressed fish imports were 18 percent lower, while frozen fillet imports declined by 11 percent during this period.

During the year-end, normally a high consumption period, catering sales were lacklustre in 2020 as many Japanese avoided dinning out. To improve sales, some smart restaurateurs began offering frozen sashimi/sushi 'tuna boxes' for take-away and for on-line purchases.

United States of America

Tuna traders in the United States of America also reported falling demand for non-canned tuna during 2020 mainly due to large drops in the restaurant sector. The COVID-19 crisis wiped-out overall restaurant sales by 60-70 percent in 2020.

Home consumption in the United States of America has also been affected by the shrinking disposable personal income (DPI) linked with rising unemployment.

US imports of non-canned tuna during the first nine months of 2020 were 37 754 tonnes, a decrease of 25 percent compared to the corresponding period of 2019. In the group the most affected were fresh tuna imports, which fell by 31 percent to 12 365 tonnes. Frozen tuna fillets continued to dominate imports but registered a 20 percent fall to 25 231 tonnes. Fillet supplies declined from the top suppliers: Indonesia (–20 percent to 11 295 tonnes), Viet Nam (-12 percent to 7 365 tonnes), and the Philippines (-27 percent to 1 850 tonnes). Imports, however, increased significantly from Thailand (+54 percent to 1 280 tonnes), Maldives (+52 percent to 201 tonnes) and Fiji (+57.7 percent to 128 tonnes) during the review period.

Other Markets

The popularity of frozen tuna fillet/steaks persisted in the European Union market during 2020.
Compared with the United States of America, imports remained relatively stable at nearly 19 000 tonnes (-1 percent) during the first nine months of 2020. Supplies declined from the top exporters: Viet Nam (-13 percent), the Republic of Korea (-10 percent), and Ecuador(-29 percent), however there were higher imports from Mexico (+42 percent to 2 590 tonnes), the Maldives (+60 percent to 975 tonnes) and Sri Lanka (+107 percent to 340 tonnes) during this period.

Consumer demand for tuna fillet weakened in Canada, Switzerland, the Russian Federation, and Australia due to the falling restaurant trade.

In southeast Asia demand for frozen seafood generally increased in large cities during the COVID-19 crisis boosting sales of frozen tuna fillet/steaks, particularly the Carbon monoxide (CO) treated products. These items are now available in retails packs (250g vacuum packed) at upscale grocery stores at a retail price of USD 20/kg.

Canned tuna trade

Household demand for canned tuna was good in large and small markets worldwide generating a brisk international trade climate in 2020.

There were increased exports from Thailand, Ecuador, China, and Spain, while the Philippines replaced Indonesia as fifth largest exporter during the first nine months of 2020.

Exports from Thailand mostly consisted of ready-to-eat products. Supplies to the top market of the United States of America increased significantly (+47 percent) and also increased to the European Union (+25 percent).

More than 65 percent of Ecuador's processed tuna was shipped to the EU market (125 000 tonnes) of which 28% consisted of cooked frozen loins. Colombia emerged as the second largest export market for Ecuador with a large rise in imports (+67 percent). Exports also increased to the other regional markets namely Argentina, Chile, Uruguay, Panama, and Costa Rica but declined to the United States of America.

Increased supplies of canned tuna to Japan and the Middle East markets boosted exports from the Philippines by 25 percent during the review period, although exports declined to the top two markets, namely the European Union (-3.5 percent) and United States of America (-3 percent).

Imports

Strong demand for processed tuna persisted in the North and South American markets. In the United States of America, the largest market supplies were dominated by Thailand (53 percent).

Colombia was the second largest importer of canned tuna in the Americas with over 70 percent of supplies coming from Ecuador. Imports in Canada were also 8.5 percent higher at 27 255 tonnes, largely supplied by Thailand (83 percent). There were increased imports of canned tuna in Peru, Chile, Uruguay, and Mexico, but declines in Argentina and Brazil.

The positive demand trend for processed/canned tuna persisted in the EU market during the first nine months of 2020. Total imports (extra and intra EU trade) during this period were 629 810 tonnes (+8.8 percent) including 144 470 tonnes of cooked loins (+11.3 percent). Imports from the extra-EU sources were 429 100 tonnes (+4.3 percent).

In other European countries, imports increased in Switzerland, the Russian Federation, and Ukraine, but declined in Norway during the review period.

Good demand and strong imports for canned tuna in the Middle East and North Africa (MENA) region persisted during the first nine months of 2020. Among the top regional markets of Saudi Arabia, Libya, Egypt, and the United Arab Emirates (UAE), imports of canned tuna ranged from 35 000-40 000 tonnes posting increased imports compared with the same period in 2019. The trend was similar in other medium and small sized markets namely Yemen, Syria, Jordan, Kuwait, and Qatar.

In East Asia there were increased imports in Japan, Singapore, Malaysia, and Taiwan (Province of China). In the Pacific imports increased moderately in Australia, New Zealand and other smaller island nations where consumer preference for canned black meat of tuna remains good.

Prices

Compared with 2019, raw material prices increased overall in 2020. The average import price of frozen skipjack in Bangkok, the price setting market, was 15 percent higher at USD 1 355 per tonne in 2020 compared with USD 1 160 per tonne in 2019.

Outlook

During the first quarter of 2021, tuna raw material prices are likely to stay firm as catches in the major fishing regions continue at low to moderate rates, while demand may improve from tuna canners.

In the Western and Central Pacific (WCP) region, catches remained low during October-November and started to improve from December 2020. The Western Central Pacific Fisheries Commission (WCPFC) reported suspension of fisheries observers in the WCP region until February 2021 because of COVID-19 related issues. During this period of suspension, the vessel monitoring scheme (VMS) that applies to purse-seine vessels during Fish Aggregating Device (FAD) closure periods will also apply to purse-seine vessels that are not carrying observers.

In the Eastern Pacific, the second IATTC 'veda' fishing closure led to lower landings. This closure ended on 19 January 2021 and supply increases are likely. Overall supplies from the Indian Ocean region may decline in the coming months due to the exhaustion of the yellowfin catch quota.

Import demand for canned tuna may strengthen again worldwide during the first quarter of 2021 following extended COVID-19 lockdown measures in many countries. Hence prices of raw material and end products will remain firm.

In Japan, the sashimi market is unlikely to recover in 2021. The second state of emergency was declared in early January 2021 in the capital Tokyo and three surrounding prefectures, restricting restaurant activity and sashimi tuna trade in coming months. Meanwhile, catering industry prospects for the 2021 Tokyo Olympic remain opaque because of the rising health concerns in Japan.