Global demand for non-canned tuna softened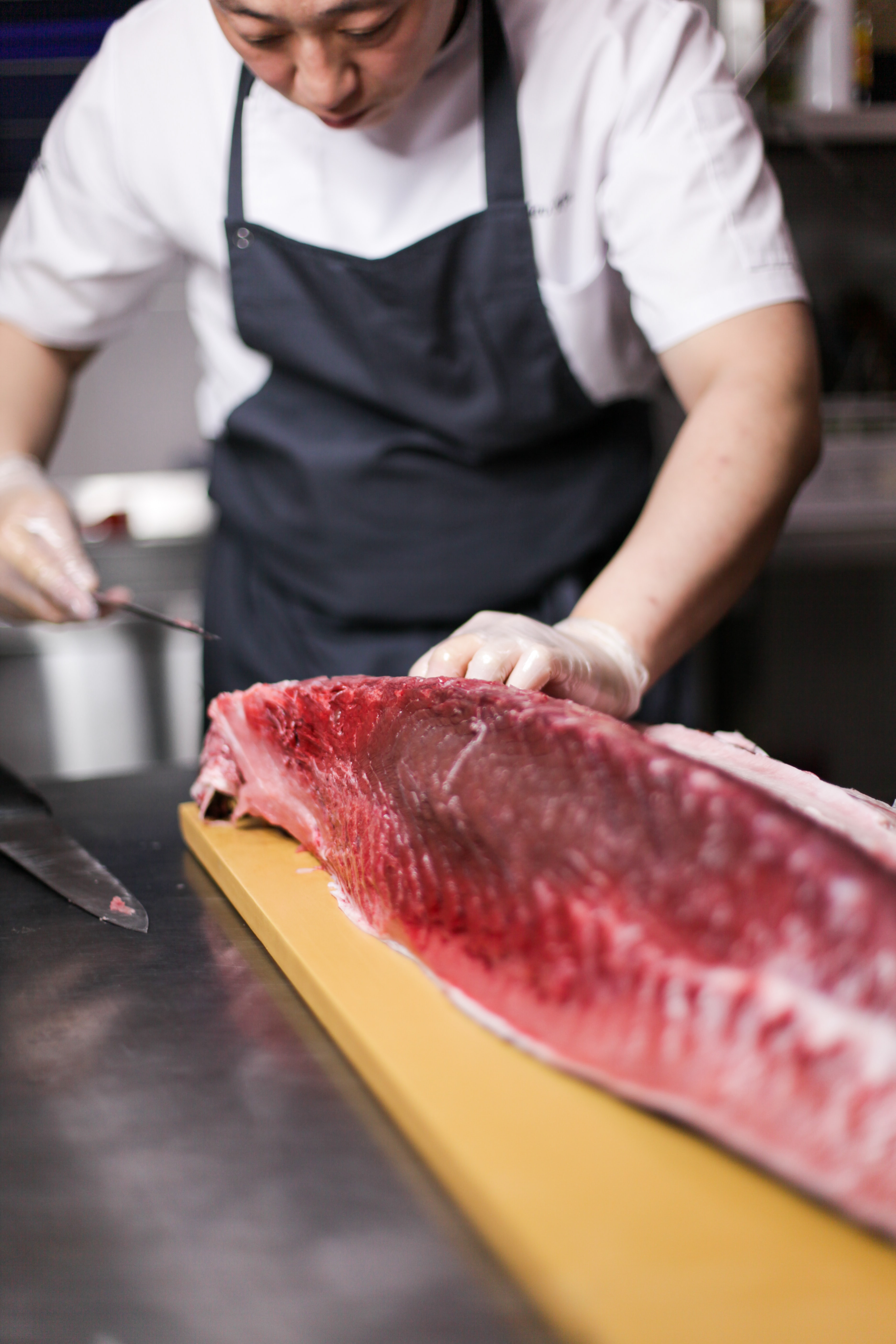 07/01/2021
During July to September 2020, tuna catches worldwide remained low to moderate while skipjack prices increased by 15 to 20 percent compared with 2019. Even so, the canned tuna sector experienced good demand during this difficult pandemic crisis.
Supply
In general, tuna landings were low in the major fishing grounds worldwide during the third quarter of 2020. Catches were poor in the Western and Central Pacific Ocean (WCPO) during the 3-month FAD fishing closure period (July to September). In the Eastern Pacific Ocean (EPO) tuna landings were moderate during the first 72-day 'veda' (fishing ban) from 29 July until 8 October 2020 when 46 percent of the Eastern Pacific fleet was inactive.
Catches in the Indian Ocean were also low during July to August but improved in September with easing raw material supplies to the regional canneries and also for transhipment. Fishing in the Atlantic Ocean was low to moderate during July to September 2020 causing a material supply shortage for canners in Abidjan.
Raw Material Imports
Increased worldwide demand for canned tuna has kept frozen tuna and cooked loin sales strong but at prices higher than 2019. During the first 6 months of 2020, Thai imports of frozen skipjack declined by 13.5 percent compared with the same period of 2019, to 208 000 tonnes, indicating good local stocks with canneries. There were higher imports of frozen yellowfin, albacore and cooked frozen loins during this period compared with 2019.
Frozen tuna imports in the Philippines also increased during the review period to 80 115 tonnes ( 64 350 tonnes in 2019) , of which 74 percent consisted of skipjack due to increased demand from export markets for cooked loins and canned tuna. Spain imported 146 785 tonnes of tuna raw material, an increase of 13 percent compared to the first 6 months of 2019. This total consisted of nearly 70 000 tonnes of cooked frozen loins and 77 000 tonnes of whole frozen tuna (47 500 tonnes yellowfin and 24 000 tonnes skipjack). Frozen tuna imports in China during January to June fell from 38 710 tonnes in 2019 to only 14 735 tonnes in 2020. However, industry reports indicated increased purchases of raw fish at high seas by Chinese traders for processing into cooked frozen loins. China's exports of this product to the European Union increased by 45 percent to 37 630 tonnes during the review period.
Fresh and frozen tuna market (non-canned)
Since the COVID-19 outbreak, fresh tuna trade (both exports and imports) remain limited worldwide due to dwindling restaurant sales and limited international flights. Demand for frozen tuna loins was better, but also at lower volumes.
Japan
During the first three quarters of 2020, seafood sales in Japan, including sashimi tuna, declined by 40 - 50 percent due to shrinking business in sushi shops, restaurants, hotels and supermarkets.  The Japanese market imported only 3 670 tonnes of fresh tuna during January - June 2020 which was nearly 38 percent lower compared with the same period in 2019. Imports of deep frozen tuna loins experienced a decline (-9.6 percent to 29 230 tonnes compared with the same period in 2019).
There was a 21 percent rise in frozen tuna imports during this period because of the 62 percent increase in skipjack supplies meant for processing canned tuna and bushi/dried products. Unlike in previous years, sashimi tuna sales remained dull during the July - August summer holiday season as many Japanese refrained from local travelling and stayed home due to the COVID-19 scare.
United States of America
Poor restaurant demand halted growth in the US non-canned tuna market. There was a 19 percent decline in the half–yearly imports of fresh and frozen tuna compared to the same period in 2019. Frozen tuna fillets dominated supplies at 17 225 tonnes, however, there was a 14 percent drop in imports of this product.
Other Markets
Notably, imports of frozen tuna loins remained stable in the European Union with a moderate rise in imports (+5 percent to 17 110 tonnes) during January to June 2020 in comparison with the same period in 2019. Among the top markets, imports increased in France (+12 percent), Italy (+5.0 percent) and Germany (+30 percent), but declined in Spain (-6.0 percent) and in the United Kingdom of Great Britain and Northern Ireland (-5.7 percent). 
Frozen loin imports also fell by 28 percent to 1 650 tonnes in the Russian Federation during the review period. Imports in the Republic of Korea were lower by 13 percent at 3 700 tonnes. The weakening trend in Turkey's tourism industry curbed imports by 60 percent to only 180 tonnes during this period.
Canned tuna trade
Household demand for retail packs of canned and other types of processed tuna has been strong in traditional and emerging markets linked with the pandemic crisis in 2020. In comparison, recovery in the foodservice sector has been very slow even during the summer holiday months in North America and Europe.  Import demand for cooked frozen loins also increased from European packers and from Thailand for processing value-added retail packs.
Exports
Increased production of processed tuna and exports continued in all regions during the first 6 months of 2020. Exports increased from Thailand, China, Indonesia, the Philippines, Papua New Guinea, and the Solomon Islands. In Africa, supplies declined from Mauritius and Ghana, but increased from Senegal and Madagascar. Exports were up from Ecuador, Mexico, El-Salvador, Peru, Costa Rica, and Colombia. In Europe, Spain, France, Italy and Portugal all reported increased exports with strong intra-EU trade.
Imports
North and South America
The canned tuna market remains strong in the Americas. In the United States of America, retail demand for both conventional (tuna in oil, brine) and valueadded products (in-pouch, in-cups ) has been strong but remains weak in the foodservice sector. During the first 6 months of 2020, US imports of processed and canned tuna were 16 percent higher compared with the same period in 2019. Import growth rose further during January to August 2020 (+24 percent) against the corresponding period in 2019. The top suppliers were Thailand (+ 33 percent), Ecuador (-14 percent), Viet Nam (-2.6 percent) and Mexico (significantly high at +196 percent).
In Canada, half-yearly imports of canned tuna in 2020 increased by 28.6 percent to 20 344 tonnes, of which 84 percent was supplied by Thailand. In South America, canned tuna imports increased in Colombia, Peru, and Chile during the review period, but declined in Brazil (-50 percent to only 734 tonnes) during January to June 2020.
European Union
Home consumption of canned/processed tuna in Europe increased while demand in the hotel, restaurant and catering (HORECA) sector dropped significantly throughout 2020 affecting supplies from some non-member countries to the European Union market. European canners in Spain, Italy, France, and Portugal largely benefited from the rise in retail demand.
Extra-EU imports of this product group (HS 160414) were 300 110 tonnes (+9 percent) during the review period in which 35 percent (105 430 tonnes) were cooked loins. The leading suppliers were China, Ecuador, Indonesia, Papua New Guinea, and the Solomon Islands.  Outside Europe, imports were record high in Switzerland at 5 705 tonnes posting a 49 percent rise in imports during January to June 2020. In the Russian Federation, imports also increased by 18.5 percent to 3 950 tonnes compared with 3 333 tonnes in the same period in 2019. Ukraine registered an 86 percent rise in canned tuna imports during this period.
Asia/Pacific and Others
For Asian canned tuna industries, the Middle East and North Africa (MENA) region remains an important focus for market development. Cumulative imports of canned tuna in this area were estimated to be 130 000 tonnes during January to June 2020, posting a 7 percent decline due to lower imports in Egypt (-4 percent). However, overall regional demand remains positive amidst the pandemic crisis.
In the East Asia and Pacific, canned tuna imports increased in Japan, Australia, Singapore, Malaysia, Taiwan (Province of China) and Sri Lanka during the review period. Domestic consumption also increased in the two large production bases of Thailand and the Philippines.
Prices
Rising demand for canned tuna and relatively lower catches in the major fishing regions pushed frozen skipjack prices 20 percent higher during July to September compared with the same period in 2019. The delivery price of skipjack to Bangkok from the Western Pacific reached USD 1 650 per tonne in September 2020. However, prices came down to USD 1 350 per tonne by mid-October.
In Ecuador, skipjack prices increased to USD 1 850 per tonne in September but softened at USD 1 650 per tonne in October. This price trend makes Ecuador products expensive for European buyers compared to Asian alternatives. European prices for frozen skipjack remained stable during September - October 2020 but weakened for yellowfin due to lower demand from Spanish canners. Prices of cooked frozen skipjack loins remained steady in Europe.
Outlook
Regular fishing has commenced in the WCPO from 1 October 2020. Moderate catches were also reported in the EPO which may continue until the second "veda" will starts on 9 November 2020. Fishing in the Indian Ocean has also improved in October enabling more transshipments from this source. In addition, lower demand particularly for skipjack from Thai canners, are foreseen in the coming months. All these factors are likely to keep skipjack prices under pressure during November - December 2020.
For canned tuna, retail demand will likely remain stable in the United States of America. In terms of the production of consumer packs, European producers will rely more on imported cooked frozen loins. However, for the foodservice sector, the future demand pattern remains uncertain until the COVID-19 crisis subsides.
For the non-canned sector, fresh tuna trade will be limited. Restaurant demand for tuna (sushi and sashimi) is likely to be latent in every market. This may further limit demand for deep frozen bigeye and bluefin loins meant for sashimi and sushi usage, particularly in Japan.
Demand for frozen loins for non-sashimi usage may improve for home consumption in the western markets. In Japan, sashimi tuna consumption may increase during the year-end/New Year high consumption period. Sales will likely pick up for take-away packs rather than for in-dining at restaurants.