Canned tuna demand rising amid COVID-19 pandemic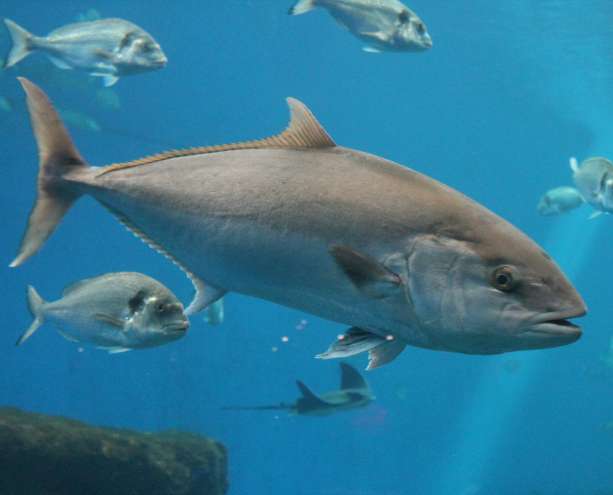 09/09/2020
Panic buying of canned tuna created a vertical curve in February/March when families rushed to stock shelf-stable food at home. The situation calmed down in April as consumers became more adaptable to the lockdown situation, choosing more online groceries and home-cooked meals. Conversely, the pandemic affected demand for large institutional tuna cans as the restaurant trade declined by 80 to 90 percent. Demand and supply of noncanned tuna (fresh and frozen) has also declined.
Supply
In general tuna catches remained stable in the Western and Central Pacific Ocean (WCPO) during the first half of 2020. Fishing continued during the COVID-19 outbreak as many fishing crews were unable to signoff or take their usual break because of the lockdown. Processing facilities in Manta implemented social distancing measures from April to May, operating at 65 percent capacity. Skipjack catches remained good in this period. The situation, however, resulted in a serious drop in ex-vessel prices of skipjack in Manta and in other tuna hubs around the world during June. Production in Manta gradually returned to 80-90 percent with good stocks of raw material.Fishing in the Eastern Pacific Ocean (EPO) also slowed down due to COVID-19 restrictions.
Raw Material Imports
Imports of frozen tuna for canning fluctuated in Asia and Europe during January to May 2020. Thai imports of frozen tuna were high at 75 000 tonnes in January 2020 which could be due to the rush to fill the annual quota of canned tuna export to the United States of America at a lower tariff. However, imports slowed down to 35 000 tonnes per month in February and March. Cumulative imports during the first quarter of 2020 were 8 percent lower (145 000 tonnes) than the corresponding period of 2019. Imports returned to increase in April and May at 50 000 tonnes per month when orders for consumer packs poured in from the major markets.
Spain, the largest processed tuna processor in Europe, imported more cooked frozen loins during the first quarter of 2020 (+ 37 percent; 57 615 tonnes) and less whole frozen fish (- 17 percent; 35 300 tonnes) compared with the same period in 2019.
Fresh and frozen tuna market (non-canned)
During the first half of 2020, demand in the two large markets of Japan and the United States of America weakened due to the persistent pandemic crisis. Supplies of fresh air-flown tuna were seriously disrupted by cancelled international passenger flights and lockdowns in the supplying countries. Demand for frozen tuna loins is relatively stable in large and small markets.
Japan
The world's largest tuna market, Japan, was gravely impacted by COVID-19 during the Spring Festival sales in April and May. In anticipation of strong spring sales, imports of frozen tuna had increased by 23 percent to 52 560 tonnes in the first quarter of 2020, of which 11 645 tonnes were frozen loins. However, the COVID-19 outbreak affected the market, and despite good retail sales of tuna sushi and sashimi for home consumption, sales of high-end bluefin and bigeye tuna were hit hard by the crisis.
Imports of air-flown tuna declined from most of the sources (Mediterranean sources, Sri Lanka, Fiji, Indonesia) during April/May 2020. Even with falling supplies, auction prices fell below last year's levels due to extremely weak demand from restaurants and the catering trade. The market demand was restricted mostly to home consumption. Imports of fresh tuna to Japan in the first quarter of 2020 also declined (-4 percent; 2 270 tonnes) compared to the same period in 2019.
United States of America
Demand growth for US non-canned tuna halted in the first quarter of 2020, particularly affecting fresh tuna demand and supply. Imports of fresh tuna in the United States of America were 15 percent lower (4 631 tonnes) with falling supplies of air-flown yellowfin tuna from Sri Lanka, the Maldives, Fiji, and Costa Rica. This weakening trend will likely persist for some time.
Total imports of fresh and frozen tuna including frozen fillets in this market were 6 percent lower (15 170 tonnes) in the first quarter of 2020 compared with the same period in 2019. However, imports of frozen fillets/steaks increased by 5.6 percent (9 835 tonnes) by stable retail demand during the spring and summer months.
Other Markets
In the European Union, imports of frozen loins/fillets totalled 6 000 tonnes (+ 8 percent) in the first quarter of the year. Meanwhile, imports of air-flown tuna fell below the 1 000 tonne level. In Spain and Italy, the two largest markets impacted by COVID-19, overall consumption will be much lower than in previous years. This year's falling tourism and low summer demand will impact the non-canned tuna trade in Europe.
Canned tuna trade
During the early months of the COVID-19 outbreak (mid-February to end-March) there were increased sales of canned tuna in the US retail market due to panic buying. Fortunately increased imports during the first quarter of the year supported such large demand. However, there were many cancellations and/or delays of export orders from the food service sector as restaurant and catering sales dropped significantly worldwide.
Exports
Canned tuna exports from Thailand increased significantly to the top 3 markets, that are the United States of America (+41 percent), Egypt (+7 percent) and Japan (+16 percent) during the first quarter of 2020. Sales also increased from the other top exporters during this period.
Imports
North and South America
With the outbreak of COVID-19, household demand for canned/pouched tuna in the United States of America increased significantly from mid-February to mid-April but has since settled down to a normal level. The market was well supplied from increased imports in the first quarter of 2020 (+6 percent; 55 230 tonnes). These products came mainly from Thailand, Viet Nam, and Ecuador.
Canned skipjack and yellowfin imports were significantly high at 44 360 tonnes (+15 percent) while canned albacore imports totalled 10 800 tonnes (+8 percent). Imports of tuna pouches and other convenient packs increased by 14.6 percent (10 890 tonnes).
In Canada consumer demand followed a similar pattern with canned tuna imports increasing by 14 percent to 8 255 tonnes in the first quarter of 2020. Imports also grew in Mexico (+10.6 percent; 2 290 tonnes) but declined in Chile (-25.4 percent; 4 555 tonnes) and in Argentina (-36 percent; 4 823 tonnes).
European Union
Imports of processed/canned tuna in the European Union increased by 22.8 percent (239 737 tonnes) during the first quarter of the year. Among the top ten individual markets imports increased in all except France. Imports of cooked frozen loins (mainly used by the local canning industry) increased to 77 000 tonnes (+16 percent). Total imports from extra-EU sources totalled 173 304 tonnes. This figure also includes frozen loins.
Since the outbreak of COVID-19 in Europe, canned tuna demand greatly increased in the regional markets. Sufficient imports of tuna cans and cooked loins during the first quarter of 2020 helped cater to this sudden demand surge. Regional tuna packers in Spain, Italy, France, and Portugal have been able to replenish European supermarket shelves as supplies from the Asia/Pacific region were delayed due to the lockdown.
Asia/Pacific and Others
In East Asian markets, the pandemic impact on canned tuna demand has been minimal as household preference remains strong for fresh or frozen seafood. However, demand for canned fish, in general, has increased as supermarkets continue to stock shelf-stable products. Subsequently, imports of canned tuna increased in Japan, Malaysia, Singapore, China and Taiwan (Province of China) by 10 to 25 percent during the first quarter of 2020 compared with the same period last year. Meanwhile, Australia continues to import less.
In the Middle East and North Africa (MENA) region, where canned tuna is in every household grocery list, imports increased in the large markets of Egypt, Yemen, and Jordan. However, in Saudi Arabia, imports and demand declined due to COVID-19 restrictions on foreign pilgrims since March 2020.
Prices
Japanese auction prices of imported sashimi tuna fresh and frozen declined by 20 to 30 percent during April to June 2020 despite lower supplies. The low demand situation may suppress prices of frozen tuna loin in the coming months. During the first seven months of the year, frozen skipjack prices for delivery to Thailand fluctuated around USD 1 250 per tonne. In April/May skipjack prices reached this year's peak at USD 1 450- 1 500 per tonne, but declined to USD 1 200 per tonne in July. Prices have also firmed up in Manta, Ecuador in July.
Outlook
Fishing in the Western and Central Pacific Ocean (WCPO) slowed down with the commencement of the three-month closure of fishing around fish aggregating devices (FADs), which started on 1 July.
In the Eastern Pacific Ocean (EPO), the first 2-months Inter-American-Tropical-Tuna-Commission (IATTC) 'veda' starts on 29 July. Hence total supply is expected to be lower than the first half of the year. Catches in the Indian Ocean are being affected by the occurrence of COVID-19 among the fishing crew in Seychelles, impacting more than 60 percent of active large-scale purse seining operations in the Indian Ocean. The situation is likely to cause lower supplies of tuna to the regional processing facilities and also in transshipments to Thailand. The lower catch projection in the Pacific and in the Indian Ocean will likely push frozen tuna prices up during August to September.
The global financial crisis is likely to hit most of the markets, large and small, in the coming months and years impacting employment and consumer disposable income. Thus demand for higher value tuna will suffer in volume sales. On the other hand, demand for affordable canned tuna may remain stable in household consumption.
For the catering trade, the slowing demand trend will likely continue until outside dining improves. Unfortunately many exporters are reporting foodservice order delays until 2021. The fresh and frozen tuna market, not intended for canning, may weaken further in the coming months if demand from the catering trade does not improve.