05/28/2021
Boost in Australian fresh salmon exports to the Asia-Pacific amid COVID-19 crisis
Salmon is regarded as a high value and popular seafood item among Asia-Pacific consumers. The fish is imported fresh and frozen in the regional markets. Fresh salmon is generally air-flown and considered as high-end seafood both in the retail and catering trade.
Over the past decade, regional imports of fresh salmon have increased gradually and reached nearly 200 000 tonnes in 2019. Norway and Chile were the top suppliers. Imports of air-flown salmon declined by15-20 percent in 2020 due to drastic declines in inter-continental flights related to the COVID-19 crisis.
Furthermore, the COVID-19 pandemic curtailed air-flown salmon imports by 15-20 percent in 2020 due to the significant drops in intercontinental flights.
However, compared with 2019, fresh salmon exports from Australia doubled in 2020, where regional markets had a 88 percent share in total exports of this product group. Except for Indonesia, exports increased to all the markets in the Asia-Pacific region, ranging from the largest market of China to Cambodia (one tonne) .
Fresh salmon exports from Australia,

in tonnes

% change 2020/2019

Destinations

2018

2019

2020

China

5 951

6 777

9 202

+35.8

Taiwan Province of China

1 106

542

3 125

+476.5

Viet Nam

425

730

3 094

+323.8

Thailand

65

108

1 202

+1013.7

Japan

723

784

1 182

+50.8

Singapore

404

109

832

+666.8

Indonesia

819

858

762

-11.2

New Zealand

88

147

290

+97.5

Malaysia

41

47

183

+291.5

Rep of Korea

79

16

135

+737.4

Hong Kong SAR

13

11

25

+120.0

Sub-total Asia

9 714

10 129

20 057

+98.0

United States of America

4

98

2 614

+2564.8

Total incl. others

9 726

10 232

22 712

+121.9
During the first quarter of 2021, exports also increased by 47.4 percent compared with the corresponding period of last year, but with 31and 53 percent declines in China and New Zealand.
The export price of fresh Tasmanian salmon in Australia ranges from USD 6.65 per kg (for markets in Thailand and Viet Nam) to USD 10.90 per kg (for Singapore). This price range is 20-30 percent cheaper than that of Norwegian salmon.
Unlike western markets, the utilization of whole or gutted salmon as fish food is widespread in East Asian markets. While salmon steak fillets are established items in the catering and retail trade, salmon fish-heads, bones, and skins have gained much popularity in home cooking. Thus, compared with other fish imports, the profit margin for salmon is high at the retail level, making this fish attractive among urban retailers.
In Southeast Asia, the retail price of fresh salmon fillets and steaks is high at USD 20-30 per kg, while salmon heads are sold at USD 2.50 per piece.
Tags: salmon, regional, exports, imports, markets, COVID-19
05/28/2021
Tight herring quotas affect US east coast lobster fishery
Inshore herring fishing in Maine has been declining in recent years, and for the current season, quotas have been tightened. Most of the herring caught in this region is used as bait for the lobster fishery, and lobster fishers are now worried that there will be a severe bait shortage.
The east coast herring fishery has been declining for years. In 1986, a total of 1.1 billion pounds (approx. 454 000 tonnes) of herring were caught on the US Atlantic coast from Canada to Virginia. By the early 2000s, landings had dropped to about 250 million pounds (114 000 tonnes) per year, and in 2019, catches fell to 39 million pounds (17 700 tonnes). In 2021, the total quota is set at 10.6 million pounds (4 800 tonnes), proving difficult for lobster fishers, who now have to look for alternative bait material. Various options have been suggested, such as menhaden, redfish, catfish heads, and even pig hide. Menhaden has until now been more expensive than herring, but this has recently been reversed.
Tags: herring, US, lobster, fishery
05/27/2021
Good skrei season
"Skrei" is Norwegian-Arctic cod that feeds in the Barents Sea and migrates during the spring (January – April) down along the Norwegian coast to spawn in the Lofoten and Vesterålen region.

Many feared a challenging 2021 skrei season due to the global pandemic and record-high quotas for cod. Nevertheless, this year's winter cod season ended with better than expected growth for Norwegian exports.

In total, 38 000 tonnes of fresh whole cod were exported from Norway in the first four months of 2021. This export volume represents an increase of 35 percent compared to 2020. The value of Norwegian fresh cod exports was 1.25 billion NOK (USD 150 million), an increase of 4 percent compared with last year.

With record-high quotas for cod and the foodservice sector in main markets remaining more or less closed, the season has performed better than expected.

The largest markets for Norwegian cod this season were Denmark, Poland and the Netherlands. However, these are all traditional redistribution markets for Norwegian seafood, and most of the consumption of Norwegian skrei happens in Spain, France and Germany.

Although most cod caught in the winter season are migratory skrei from the Barents Sea, only a small proportion is exported with the exclusive quality label for skrei. In the 2021 season, 4 690 tonnes of quality labelled skrei were exported, slightly less than in previous years. The value of this export was 200 million NOK, a 23 percent decline from 2020.

While the price of both fresh cod and quality labelled skrei is lower than in 2019 and 2020, the price premium for quality labelled skrei has never been higher. On average, the export price for one kg of quality labelled skrei increased by 25 percent for regular cod.

Although the fresh whole cod price is lower than 2019 and 2020, export volumes were substantially smaller during these two years. It is worth noting that, despite a challenging season, the price this year is about the same as in 2018, which was the last time similarly high export volumes were registered.

Tags: cod, skrei, Norwegian, COVID-19
05/26/2021
Disappointing cod season in the Barents Sea
Russian whitefish operations in the Barents Sea have been rather disappointing during the beginning of 2021. Due to reaching saithe bycatch limits earlier than expected, the Russian fleet was forced to leave Norwegian waters in the Lofoten area. This region is where the largest cod is caught during the March – April season. Thus there is less large cod available, and prices for large cod have been rising. Much of the large (+ 4 kg) cod is used for salting and drying. This availability shortage will mainly affect Portugal and Brazil, which are the main markets for these klipfish products.
Tags: cod, Barents Sea, Russian, klipfish, fish, products, prices
05/26/2021
Cod and haddock quotas in Norway not filled
As the spring whitefish season in Norwegian waters drew to a close in May, a large part of both cod and haddock quotas remained to be caught during the rest of 2021. The quotas were increased this year, and as of mid-May, over 18 percent of the cod quota – some 170 500 tonnes –were not yet fulfilled. The situation for haddock was similar: only 53 000 tonnes of haddock had been landed by the end of week 17 (1 May 2021), leaving 71 000 tonnes to be caught during the rest of the year.
Tags: cod, haddock, quotas, whitefish, Norway
05/26/2021
The Current State of European Union Imports
The European Union (EU) accounts for a third of fish imports by value, the largest single market. High purchasing power and demand for premium products make for an enticing but highly competitive market with complex global trade flows. As such, the trends and consumer preferences within the EU have a significant impact on international trade.
The COVID-19 pandemic had a pronounced impact on global fish trade, wiping approximately USD 10 billion off imports between 2019 and 2020. In the case of the EU, the reduction was particularly pronounced in April and May, with value diminishing by 29 and 27 percent, respectively, compared to 2019. The reduced demand from tourism and the hospitality industry is seen to have outweighed any increase in-home consumption. Nevertheless, the value of imports has more or less stabilised to pre-pandemic levels from September onwards, a trend that will likely continue as restrictions are lifted.
As trade with the EU opens back up, awareness of market access requirements remains of great importance to both current and potential exporters. The rules of entry applied to fisheries and aquaculture products are diverse, and while they often vary significantly from country to country, the EU offers a unified import policy. More information on EU import requirements for fish and fish products will be available soon through the GLOBEFISH Market Access Hub.
Tags: market access, European Union, EU, fish, products, imports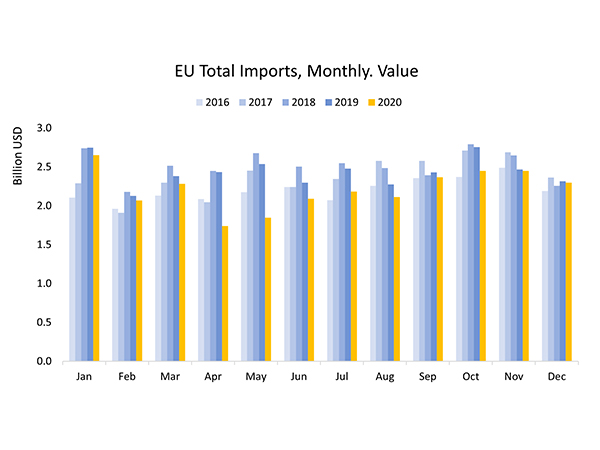 05/18/2021
Viet Nam expecting strong EU growth on the back of new EVFTA
The history of Viet Nam's seafood exports to the European Union (EU) has been marked in recent years by several challenges that have hindered the development of this important seafood exporting market. In 2017, the Southeast Asian country was issued a "yellow card" by the European Commission due to the Commission's concern that it was not doing enough to fight Illegal, Unreported and Unregulated (IUU) fishing. The yellow card serves as an official warning which can be upgraded to a red card, equating to a ban by the EU on fisheries product imports from the country incurring the sanction. Also, in 2017, Viet Nam's large pangasius industry was the focus of a negative television segment broadcast in Spain, which was followed by significant declines in pangasius sales in the EU, despite subsequent rebuttal statements from both the Aquaculture Stewardship Council (ASC) and the Viet Nam Association of Seafood Exporters and Producers (VASEP).
In August 2020, however, the long-term outlook for Vietnamese exporters targeting the EU market took a positive turn, with the entering into effect of the EU-Vietnam Free Trade Agreement (EVFTA) after an extended negotiation period. Viet Nam exports fisheries products worth about USD 1.3 billion annually to the EU. Nearly 50 percent of import tariff lines on these products, including frozen shrimp (HS 03061792)[1], were reduced from 6-22 percent to 0 percent immediately. For other shrimp products and for (most) pangasius products, tariffs will be reduced to zero throughout three to seven and three years, respectively. Frozen tuna tariffs will drop to zero percent immediately, except frozen tuna loins, which will be reduced over the course of seven years, and canned tuna products have been allowed a zero percent annual quota of 11 500 tonnes. The effects of this trade agreement are already being seen, contributing to VASEP's projections for an increase of 11 percent in Viet Nam's total fishery product exports in 2021, to a total of USD 9.4 billion.
Tags: pangasius, tariffs, exports, market access, national, shrimp, imports, Vietnam, Viet Nam, European Union, EU, EVFTA
[1] Check the GLOBEFISH HS Codes for Fish and Fish Products at: https://issuu.com/globefish/docs/fao_wco_-_hs_code
05/13/2021
Scallops are declining in the United States of America
Scallop is becoming a scarce product in the United States of America. Last year ended with sky-high prices. The new season started on 1 April, and supply continues to be limited, especially for the large-sized scallops. As a result, prices are skyrocketing, with record-high prices of USD 28 per lb reached in April 2021 for the large-sized specimens. Usually, scallop prices in the US market start to soften in the spring and summer months, but the outlook seems different this year. It is expected that supply stays below demand at least until the end of July 2021, with record-high prices.
In the first two months of 2021, scallops worth some USD 39.5 million were imported into the United States of America, 30 percent more than in the same period of 2020. Quantities reached a high of 3 500 tonnes, some 1 000 tonnes more than in the same period of last year. The average value of scallop imports went down slightly to USD 13.00 per kg. China was the leading exporter of scallops to the US market, followed by Peru and Japan. Peru managed to double its exports in the first two months of 2021, indicating the overall recovery of the scallop industry in this country.
Moreover, Peru increased its exports of scallops during the first two months of 2021, compared with 2020. The value of scallops doubled to reach USD 19.5 million. In line with the scarcity of domestic scallops, the United States of America became the primary outlet for scallops from Peru, reporting a 250 percent increase in value in the first two months of 2021. The United States of America overtook France as the main market of Peruvian scallop, despite a 20 percent increase in the French imports of scallops from Peru in value terms.
Tags: bivalves, statistics, exports, imports
05/13/2021
A glimpse into 2020 world shrimp imports
The international shrimp trade has developed significantly over the years through the increased production of farmed marine shrimp, namely the Pacific white (Penaeus vannamei) and black tiger (Penaeus monodon). Asia and Latin America are the main producing regions. Impacted by the COVID-19 pandemic, global production from this sector in 2020 is estimated to be 15 percent lower at around 3.36 million tonnes year-on-year.
International shrimp trade was relatively stable in volume, although export prices were weak despite lower production. Increased home consumption and good retail trade largely supported this business and cushioned significant demand shortfalls in the hotel, restaurant, and catering (HORECA) sector worldwide. The three regional markets (Asia-Pacific and the Middle East, Europe, and the Americas) imported more than 3 million tonnes of shrimp (product weight) in 2020.
World: Shrimp imports by region, in tonnes

Region

2018

2019

2020

% change 2020/2019

Asia-Pacific and Middle East

831 248

1 428 466

1 238 045

-7.0

Europe

916 952

901 802

921 891

+2.16

Americas

808 294

823 629

860 795

+4.49

Total

2 556 494

3 153 897

3 020 731

-4.21
Among the top five individual markets, the United States of America had the highest share in 2020 international shrimp trade at 25 percent. This was followed by China (20 percent), Japan (7 percent), Spain (5 percent), and France (4 percent). Imports only increased in the United States of America (+6.8 percent at 748 000 tonnes) and France (+ 5.5 percent at 113 100 tonnes) but declined in China (-15 percent at 613 165 tonnes) and Japan (-5.2 percent at 210 125 tonnes).
In the Asia-Pacific region, the top markets in 2020 were China, Japan, the Republic of Korea, and Taiwan Province of China. Imports weakened in all except for Taiwan Province of China.
In Europe, the European Union had an 88 percent share in the regional market and imported 814 825 tonnes of shrimp in 2020 (+1.3 percent). Imports in the Russian Federation were high at 58 000 tonnes (+ 20 percent). Ukraine and Switzerland also registered higher shrimp imports in 2020.
Besides the United States of America, there were increased imports in Peru, Guatemala, Colombia, and Honduras but declines in Canada.
A detailed review on 2020 global shrimp production and trade will be available in the 2nd issue 2021 of the GLOBEFISH Highlights.
Tags: shrimp, imports, international trade
05/12/2021
Social Challenges and COVID-19 in the Fisheries and Aquaculture Sector
Fish is one of the most traded food commodities worldwide, with millions of people depending on fisheries and aquaculture activities as sources of jobs, income, and livelihoods. FAO estimates that 59.5 million people are directly engaged in the primary sector of fisheries and aquaculture.
The fisheries and aquaculture sector has one of the most challenging and hazardous work environments to ensure decent work. Social issues have become a major concern in the industry. The media has highlighted cases of labour rights violations and human rights abuses, which were found to take place at different stages of the fisheries and aquaculture value chain – especially in fish harvesting, farming and processing. As a result of the increased awareness, industry associations, labour unions, and policymakers have undertaken initiatives to address the existing weaknesses, seek remedies, and improve performance through increased monitoring control, transparency, surveillance, traceability and certification.
In addition, the COVID-19 pandemic has led to a severe public health problem. It has triggered an economic crisis associated with many measures taken by countries to contain the virus spreading, such as lockdowns, home confinement, travel bans, and business closures, among others. Even though retail food businesses, such as supermarkets, grocery and convenience stores, and takeaway restaurants are deemed essential and remain operational in many countries, restrictive measures have created a challenging environment where access to food could become more problematic.
Consequently, value chains have been disrupted, causing negative impacts on the supply, demand and logistics of fisheries and aquaculture products. Furthermore, adverse social and business consequences affected workers, small-scale fishers, farmers, companies, and restaurants. Therefore, COVID-19 affected total sector employment and livelihoods.
The impacts of the pandemic in economic and social aspects are severe. Soaring unemployment rates, income losses and rising food costs have jeopardized access to food in developed and developing countries alike. Each percentage point drop in global Gross Domestic Product (GDP) is expected to result in an additional 700 000 stunted children in social terms. According to the World Bank, about 100 million people can dive into extreme poverty. Smallholder farmers and their families, workers in all sectors, and those living in commodity-and-tourism-dependent economies have been particularly vulnerable to the economic and social effects of the pandemic.
Nevertheless, many of the problems associated with access to food existed even before the COVID-19 pandemic. In 2019, almost 690 million people went hungry. According to the State of Food Security and Nutrition in the World 2020, the pandemic might have pushed an additional 100 million people into chronic hunger in 2020, which means unemployed people, lower wages, and unacceptable working conditions, among others.
In this regard, in order to keep inform the sector about the impacts and implication of the pandemic, FAO has developed the "Policy Briefs" section in order to present a qualitative and quantitative assessment of the pandemic's impacts on the areas of food trade, food supply chains, markets, people's lives, livelihoods and nutrition. Briefs are released on a day-today basis. In addition, FAO has a specific mandate to promote social sustainability in fisheries and aquaculture value chains addressing mainly the recognition and protection of human and labour rights in national and international value chains. Moreover, since 2014 annually, the FAO Fisheries Division has organized the "Vigo Dialogue", which is an important benchmark event to promote decent working conditions within the fisheries and aquaculture sector.
Therefore, FAO continues working toward the achievement of the Sustainable Development Goals (SGDs), including the recognition of human dignity as being fundamental to reach these goals:
- SDG1: End poverty in all its forms everywhere;
- SDG2: End hunger, achieve food security and improved nutrition and promote sustainable agriculture;
- SDG5: Achieve gender equality and empower all women and girls;
- SDG8: Promote sustained, inclusive and sustainable economic growth, full and productive employment and decent work for all;
- SDG10: Reduce inequality within and among countries;
- SDG14: Conserve and sustainably use the oceans, seas and marine resources for sustainable development;
- SDG17: Strengthen the means of implementation and revitalize the global partnership for sustainable development.
Tags: IUU, global, SDG, social responsibility, COVID-19, social issues, decent work, fish value chain, employment
05/12/2021
MENA remains Thailand's largest regional export market for canned tuna
In recent years, the emergent consumer markets in the Middle East and North Africa (MENA) have become the mainstay of Thai canned tuna exports.
Demand for 'made in Thailand' products, ranging from high value to average quality canned tuna, increased in many markets in the MENA region not only during the COVID-19 pandemic crisis, but also in previous years. In 2016 total exports to the MENA region reached 183 400 tonnes, however a decline was experienced in 2018 due to geopolitical conflicts in the Middle East.
Thailand: Export trends for canned tuna to the Middle East and North Africa ( MENA)

Destination/markets

2018

2019

2020

Egypt

50 419

46 280

55 763

Saudi Arabia

27 049

30 668

36 005

Libya

20 987

38 232

33 737

Yeman

6 011

9 597

15 338

Israel

11 585

15 704

14 110

United Arab Emirates (UAE)

13 508

14 881

12 650

Jordan

5 389

3 913

5 573

Other 9 markets

22 539

22 071

18 205

Total MENA

157 487

181 346

191 381
In 2020, 16 markets in the MENA region imported 191 380 tonnes of canned tuna from Thailand. MENA accounted for 33 percent of total canned tuna exports from Thailand.
Traditionally North America (the United States of America and Canada) has been the main export market for canned and processed tuna from Thailand. However, over the past decade, exports from the largest US market declined from 24 percent in 2010 to 15 percent in 2015 and dwindled between 15-19 percent during 2016 -2019. Compared with 2019, US imports from Thailand increased by 37 percent in 2020, resulting in the market share to rise by 24.7 percent.
In 2020, Thailand exported 582 690 tonnes of canned tuna to the world market valued at USD 2.36 billion.
Tags: Tuna, Global, Exports, Markets, COVID-19
05/11/2021
Norway whitefish industry looking for new markets
Norwegian inshore fisheries for cod and haddock lost its Marine Stewardship Council (MSC) certification earlier this year as the country was unable to reduce its bycatch of coastal cod below 12 percent within the 12 nautical mile limit. This led to losing the MSC label for all whitefish products caught north of the 62 parallel.

The loss of the MSC certification means that Norwegian whitefish products are decreasing in popularity as buyers in some markets that require such labels will look elsewhere. Consequently, Norwegian whitefish exporters have to look for new markets.

However, observers are not overly worried. When the pelagic certification was lost in 2020, the market impact turned out to be very negligible. Even so, the search for new markets for whitefish may not be a bad idea. Some markets in Asia are turning to the Arctic, which is increasing in popularity there. As the Norwegian 2021 quotas for cod and haddock have been increased by 20 and 10 percent, respectively, opening new markets may indeed also be a necessity. At present, most Norwegian whitefish is sold to the European Union, and a diversification of markets may be a good strategy in the long run.

Tags: MSC certification, labels, products, Norwegian, whitefish, markets
05/11/2021
Norway – UK fisheries agreement fell through
Negotiations between Norway and the United Kingdom of Great Britain and Northern Ireland failed to reach an agreement in April, spelling disaster for the British fishing industry. The most critical issue was a new access deal to replace the old access agreement between the European Union and Norway. The United Kingdom is no longer a party to after Brexit. Under the old access agreement, British vessels could catch a certain quota of Arctic cod in Norwegian waters, but this is no longer an option without a new bilateral agreement.
The lack of access to Norwegian waters has severe consequences for the British fisheries industry. For example, the country's newest and largest whitefish trawler, the Kirkella, can no longer operate in these waters. Consequently, the economic performance of the vessel is in jeopardy. The jobs of the crew members and many on-shore UK workers are also at risk
Tags: UK, EU, Norway, cod, whitefish, fishing, industry, bilateral, trade
05/11/2021
Norwegian seafood exports climbing again
Figures for March 2021 show that, after a period of stagnation, Norwegian seafood exports are now back on track and climbing again. An excellent March month pushed first-quarter figures up, although the total value of exports during the first quarter was slightly below the same period in 2020. March exports amounted to NOK 10.9 billion (USD 1.3 billion), a 13.5 percent increase compared to March 2020. Total first-quarter exports came to NOK 27.7 billion (USD 3.3 billion), which was 2.8 percent lower than the first quarter of 2020. However, the export volume was up by 8.7 percent to 767 892 tonnes.
Salmon now dominates Norwegian seafood exports, and during the first quarter of 2021 accounted for 63.5 percent of the export value. Cod came in second place with 10.4 percent of the total, followed by mackerel (5.0 percent).

Tags: Norway, seafood, exports, fish,
05/10/2021
US Alaska pollock catches catching up
After a slow start to the Alaska pollock "A season" in Alaska, catch figures were picking up in April. As of 20 April, 554 649 tonnes, or 91.2 percent of the "A season" quota were landed. This is welcome news for processing plants that were complaining about a lack of raw material earlier in the year.
However, 2021 production is still below that of 2020. Total Alaskan fillet production as of 10 April stood at 48 200 tonnes, a 32 percent reduction compared to the same period in 2020.
The industry is now hoping for a better "B season", which starts in June and runs into October 2021.
Tags: Alaska pollock, production, US, United States of America
05/10/2021
High lobster prices expected
As the lobster fishery in Newfoundland and Labrador was about to open at the end of April, expectations were high about prices. Landings on the North American east coast were hampered by regulations to protect the right whales, and supplies have therefore been rather tight. Currently, the demand for lobster is very good in North America and Asia.
Tags: lobster, prices, Newfoundland and Labrador, Canada, demand