09/23/2021
Belize fish exports to the European Union
Exports from Belize to the European Union (EU) reached USD 20 million in 2020, a substantial decline of USD 2 million from the 2019 result, and USD 7.7 million from 2018. The main importing country of fisheries and aquaculture products from Belize is Spain, alone accounting for 70 percent of Belizean fish exports going to the European Union. Belize represents a tiny share of all EU fish imports, only 0.1 percent in value terms. All exports are in the HS Codes for Fish and Fish Products of Chapter 03 (Fish and crustaceans, molluscs and other aquatic invertebrates). Edible fish represents about one-third of the total export value of Belizean exports to the European Union, an indication of the sector's importance.
Frozen fish is the main product form valued at USD 14.5 million in 2020, USD 6 million less than 2019. It is therefore evident that Belize's exports to the European Union suffered from the impact of COVID-19.
On the other hand, exports of crustaceans and molluscs grew significantly last year. Despite this increase, these two commodities together account for only one-third of total fisheries and aquaculture exports to the European Union. Frozen fish exports from Belize concentrate on Spain and Portugal and consist almost exclusively of tuna exports.
In the crustaceans category, Belize exports to the European Exports are exclusively lobster. France and Spain are the leading importers of this product. In 2019, France imported lobster from Belize worth USD 1 million, a value which declined to USD 0.7 million in 2020, mainly due to the lockdown of French restaurants because of COVID-19. On the contrary, Spanish imports of lobster from Belize increased from USD 0.5 million in 2019 to USD 0.9 million in 2020. In the molluscs group, it is exclusively frozen squid, which is exported from Belize to the European Union. Portugal is the main market for this product with USD 3 million in 2020, up from 0.7 million in 2019. Spain was the other main market for frozen squid from Belize, with imports of USD 0.6 million in 2020, up from USD 0.2 million in 2019 but down from USD 1.6 million in 2018.
Tags: Cephalopods, Statistics, Exports, Imports
09/16/2021
The United States of America reported record high shrimp imports during the first half of 2021
International shrimp trade was resilient during the first half of 2021 due to strong retail trade and recovering restaurant business in the United States of America.
With an estimated 40 percent share in global imports of shrimp, the United States of America remained the world's largest marketplace for shrimp during January-June 2021. Imports exceeded 400 000 tonnes, with an estimated value of USD 3.42 billion, the highest half-yearly imports ever recorded.
Compared with the same period in 2020, an additional 103 000 tonnes worth of imports entered the market during this period, supported by strong retail trade and reopening of the restaurant business since spring this year. In anticipation of good summer demand, monthly imports increased from 63 000 tonnes in March to 81 000 tonnes in May and 77 000 tonnes in June 2021.
The top five exporters to the US market were India, Ecuador, Indonesia, Viet Nam, and Thailand. Compared with 2020, imports from India increased (+28 percent) but with a reduced share in total imports (from 40 to 35.5 percent). Ecuador increased its market share from 13 to 22 percent, with a 86 percent rise in supply. Imports from Indonesia also increased by 14 percent but with a lower market share compared with the same period in 2020.
During the first half of 2021, as a response to strong demand from the retail sector, supplies of semi-processed and processed shrimp continued to increase.
In the US shrimp market, the share of retail trade increased from 20-25 percent to 32-35 percent, comparing periods before and after COVID-19. This growth has compensated for the significant drop in demand in the hotel, restaurant, and catering (HORECA) sector, particularly in 2020.
The reopening of the catering trade in 2021 and steady retail demand for shrimp in the US market will likely support the positive demand trend for the rest of 2021.
Tags: shrimp, imports, United States of America, HORECA sector
09/15/2021
Freight cost continues to cause headaches for fish trade
The cost of sea freight has skyrocketed since the start of the pandemic, with 2021 seeing prices in major indexes double several times over. According to figures from the Freightos Baltic Index, which measures the cost of container freight, while prices were stable throughout 2020, they have risen dramatically since early 2021. As shown in the diagram, the average cost of a 40-foot container was around USD 1 500 in January 2020; by September 2021, this has risen 7-fold to USD 10 500. While costs and capacity vary widely between ports and shipping lanes, no major routes have remained unaffected by the price hikes.
In 2020, international trade in all goods fell in value by an estimated 8 percent. The economic slowdown caused by COVID-19 had a profound impact on international trade, and while demand has essentially returned, there is now a significant shortfall in shipping capacity. For an industry such as shipping, which operates on narrow margins, the loss of demand and complications for crewing vessels was a heavy blow. Many older vessels and containers have faced early retirement and have yet to be replaced. With demand for fish and other food commodities, such as meat, returning to major global markets, this has left a gaping shortage in reefer vessels and container ships and the refrigerated containers they carry.
The initial stages of the pandemic saw a sudden and profound impact on global demand for fish. Suppliers are now feeling the knock-on effect of globally reduced demand in 2020<s>,</s> through reduced shipping capacity. While the price hikes are dramatic, the logistical challenges posed by this reduced capacity are perhaps more concerning, which creates uncertainty and prevents products from reaching their intended market. For now, exporters are likely to be impacted by the increased costs. However, depending on the market situation and cost transfer to consumers, the market may adjust to lessen the impact.
Tags: fish trade, freight costs, global demand, shipping capacity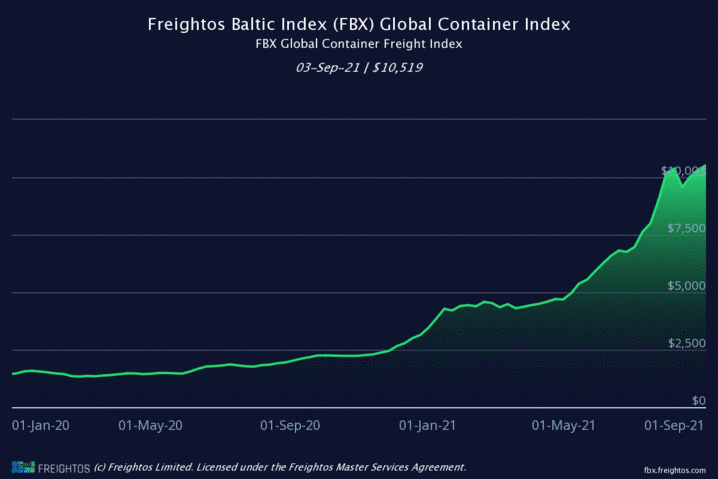 09/14/2021
Aqua Nor Digital – now open for all
The large aquaculture technology exhibition Aqua Nor 2021 was held in Trondheim, Norway, during the last week of August. Almost 17 000 physical visitors entered the exhibition halls to see about 700 exhibitors from 27 countries.
In addition, the Nor-Fishing Foundation created a digital trade platform of the exhibition to allow visitors to see presentations, visit digital exhibitors, set up one-on-one meetings with exhibitors, and watch interviews. The digital platform will remain active until 31 July 2022.
For more information: www.aqua-nor.no
Tags: Aqua Nor Digital, Nor-Fishing Foundation, aquaculture, exhibition, digital platform