Background and challenges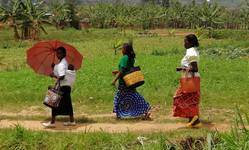 In Rwanda the KnoWat project is implemented in collaboration with the Rwanda Water Resources Board (RWB) and the Ministry of Agriculture and Animal Resources through the Rwanda Agriculture Board (RAB).
Rwanda is a water-rich country. Agriculture is the backbone of the country's economy. The "land of a thousand hills", as Rwanda is called, is characterized by a dense system of lakes, rivers, marshlands, groundwater and soil water, which are frequently replenished by abundant rainfalls.
However, Rwanda is challenged by climate variability manifested through changes in rainfall pattern with more extreme events. In addition, there is an increase pressure on the resources due to population growth, intensification of agriculture, rapid urbanization, industrialization, added to the competing demand on water and deterioration of water quality.
Project area
The project activities focus on the Yanze, Lower Akagera and Muvumba catchments.
The Yanze River in central Rwanda is one of the main water sources used for water of Kigali, in addition to serving the needs of small-scale farmers, pastoralists and fisher folk. The catchment is characterized by a variety of water users, including: vegetable and fruit production in the valley bottoms, maize and potato production on the hillsides, small scale farmers, coffee washing stations, water treatment plants, mineral extraction sites and small scale irrigation. KnoWat activities in water accounting, auditing and tenure in the Yanze catchments can help resolving any issue arising due to the different interest of the users.
The Lower Akagera and Muvumba rivers are located in the Eastern part of Rwanda, and their catchments are characterized by a wide range of irrigation schemes (rice, maize, beans, soybeans, vegetables) and cattle farms which depend on sufficient surface water. The two catchments suffer from severe precipitation-deficit and/or frequent, severe water shortage particularly in the dry season. Irrigation development has taken place by government and private investors with a view towards improving access to water for all, as well as food security.
Expected results
The following results are expected in Rwanda:
The water resource management policy framework has been reviewed and recommendations have been formulated how increased competition on water resources can effectively be addressed.
National stakeholders from government, civil society, private sector and media have increased awareness and initiates dialogue on issues of water access and allocation.
Technical staff in water and agricultural sector institutions have improved capacities on data management for water resources assessment.
Farmers in the Yanze catchment (Rulindo district) have increased capacities in water management and better access to water through solar pumps, and more diversified sources of income such as aquaculture.