Background and challenges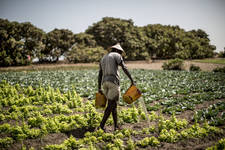 In Senegal, the KnoWat project is implemented in collaboration with the Ministry of Agriculture and Rural Development and the Ministry of Water and Sanitation.
In Senegal, agriculture supports the livelihoods of many family farmers. Corporate and industrial agriculture is developing in areas where irrigation is possible and with access to Dakar's main urban market and export markets.
Since 2003, the government has stimulated irrigation development in strategic areas to reduce cereal deficits such as rice. In particular, the delta of the Senegal River Basin, is of strategic importance for the irrigated production of rice, vegetables and other food crops, and pilot area for the KnoWat project.
The water sector in the delta of the Senegal River faces many challenges which impact the sustainability of the water resources, including competition and conflicts between users, overexploitation of groundwater, inadequate infrastructure, and unclear access rights. In addition, an increase in extreme climatic events such as floods and droughts exacerbated by climate change can be observed. In rural areas, poverty and food insecurity remain high.
Expected results
The following results are expected in Senegal:
Technical staff in water and agricultural sector institutions have improved capacities on data management for water resources assessment.
Farmers in the delta of the Senegal River have increased capacities in water management and better access to water and also income diversification.
Local governance processes have been analyzed, and capacities recommendations to link governance of land and water tenure have been formulated.
The linkages between land and water tenure have been identified, recommendations formulated to improve local governance processes, and capacities of local actors built to recognize water tenure arrangement.