The Food and Agriculture Organization (FAO) organized the workshop on "Promoting Water Tenure for Food Security, Climate Resilience and Equity", from 28 to 29 June 2022 in Schankhalle Pfefferberg (Berlin, Germany) and online.
The event covered the incipient and promising concept of "water tenure" and its role in managing water resources and in its impacts on people's food security and livelihoods. Various practitioners illustrated the topics with practical insights from case studies from around the world.
The workshop builds on results of the project "Knowing water better - towards fairer and more sustainable access to natural resources – KnoWat" funded by the Federal Ministry of Food and Agriculture of Germany (BMEL) and implemented by the Food and Agricultural Organization of the United Nations (FAO).
The workshop aims to:
Increase awareness about water tenure and its relevance for equitable and sustainable development,
Explain why and how the use of a water tenure approach can help to address water and related challenges
Explore avenues of how different actors can help to promote awareness and mainstreaming good governance of water tenure
Made with the financial contribution of the Federal Ministry of Food and Agriculture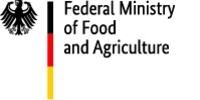 Organized by the Food and Agriculture Organization of the United Nations in collaboration with:
♦ Deutsche Gesellschaft für Internationale Zusammenarbeit GmbH (GIZ)