Linking people, places and products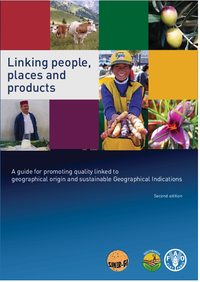 The promotion of links among local stakeholders, their territories and their food products is a pathway for sustainable development in rural communities throughout the world. The success of such process, especially through a geographical indication (GI), is based on a series of factors described along the origin-linked virtuous circle: identification of potentials, qualification of the product, remuneration through marketing, reproduction of local resources and the roles of public policies.
The Quality & Origin Programme of FAO and REDD have jointly developed this training material for the promotion of origin-linked quality and sustainable geographical indications in a participatory process. Based on the guide "Linking People, Places and Products", the "Content" sheets provide with the concepts, while the "Exercise" sheets provide with participative activities. The "Trainer" sheets together with the "introduction" will guide the trainer in the preparation of a tailored training in relation with the 5 steps of the virtuous circle.
Available in English - French - Spanish - Russian - Croatian - Polish