Manual de formación sobre los procesos participativos (en inglés)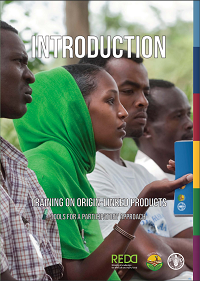 Why is participatory training on origin-linked quality and geographical indications needed?
The promotion of links among local stakeholders, their territories or zones and their food products can be a tool for sustainable development in rural communities throughout the world. Terroir products have specific qualities linked to their production territory or zone and those involved, resulting from specific know-how and local natural resources. The success of a process to optimize a product of origin-linked quality in economic, social and environmental terms, especially through its geographical indication (GI), is based on identification by stakeholders in the value chain of their shared interests and objectives, the local resources that contribute to the product's reputation and sustainable means for its exploitation.

GIs must be based on local stakeholders' know-how, so that of their very nature they require a bottom-up – and therefore participatory – approach. The stakeholders in the value chain must grasp what is at stake in organizing the chain and protecting the name of their product, so that they can undertake the process and carry it through. Without this assumption of responsibility, any such process is bound to fail and will contribute nothing to sustainable development of the region. The stakeholders in the value chain must also work together to develop production rules (the code of practice or specifications), which are what distinguish GIs from any other quality label. Each code of practice is specific to the product(s) in question and must reflect the practices of the value chain stakeholders.
FAO, under its Quality & Origin Programme, and REDD have thus worked together to support a bottom-up approach, developing these tools for a participatory process of training on "the promotion of origin-linked quality and sustainable geographical indications". It is vital that the local stakeholders involved or concerned by these actions be provided with the tools and methods to undertake participatory action to optimize products of origin-linked quality.
The guide "Linking People, Places and Products" provides a methodological approach centred on the origin-linked quality virtuous circle for the development of procedures to preserve and promote these products, providing concepts, recommendations, practical examples from all over the world, and self-evaluation exercises. With a view to boosting the capacities of those involved in such procedures and increasing the number of experts in the world, whilst bearing in mind the recent nature of interest in this subject, FAO and REDD wished to offer a complete training tool.