Economic Community Of West African States (ECOWAS)

The Economic Community Of West African States (ECOWAS) is a regional group of 15 countries, founded in 1975. Its mission is to promote economic integration in "all fields of economic activity, particularly industry, transport, telecommunications, energy, agriculture, natural resources, commerce, monetary and financial questions, social and cultural matters ...".
The ECOWAS Commission and the ECOWAS Bank for Investment and Development, more often called The Fund, are its two main institutions designed to implement policies, pursue a number of programmes and carry out development projects in Member States. Such projects include intra-community road construction and telecommunications; and agricultural, energy and water resources development.
In close collaboration with the project "Establishing a Hunger-free Initiative for West Africa", in which FAO is supporting ECOWAS and its government and non-government partners in working towards a Hunger-free West Africa, the project will aim at two major outputs.
Firstly, the project will assist ECOWAS to adapt FAO capacity building material (e.g. e-learning on food security and the right to food) and reference guides to the needs of West Africa. It will help ECOWAS to comprehend more recent concepts, such as food sovereignty, the right to food and food and nutrition security, and will facilitate Government learning and exchange.
Secondly the project will strengthen the capacity of the ECOWAS Parliament, a regional parliament composed of national parliamentarians, on food and nutrition security. Parliamentarians play a crucial in preparing the national budget and monitoring its efficient use.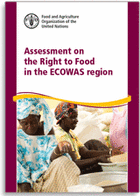 Right to Food Assessment, 2014.
This publication describes the development of the Right to Food in the West-African region. It brings together the analysis of the food and nutrition situation (focusing on the main barriers to eradicating hunger), the legal framework, the relevant policies and programmes (focusing on principles inherent to the right to food), and a brief description of the most relevant institutions.