Read the Committee on Agricultures (COAG) Twenty-seventh Session note that launched the Global-Hub on Indigenous Peoples' Food Systems EN| ES| RU| FR| CH | AR
The Global-Hub on Indigenous Peoples' Food Systems brings together indigenous and non-indigenous experts, scientists and researchers to establish a knowledge-dialogue that will gather evidence-based contributions on Indigenous Peoples' food systems. The Global-Hub will inform policy discussions and research agendas on food security, biodiversity and climate change at local, national and regional level ensuring that indigenous peoples knowledge and rights are at the center and that their food systems are valued and protected. By working horizontally and vertically in knowledge sharing, the Global-Hub will support the well being of indigenous peoples and the preservation of their ancestral territorial management practices and food systems that have feed indigenous peoples for centuries while preserving 80% of the remaining biodiversity in the planet.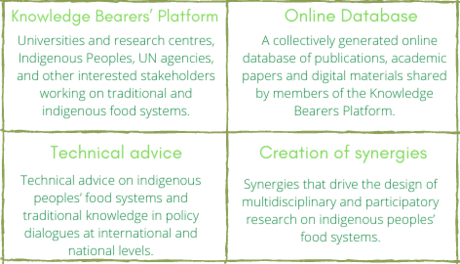 The Global-hub partners with various institutions working towards filling the knowledge on traditional and Indigenousm Peoples' food systems by coordinating and conducting research. These include universities and research centers, Indigenous Peoples organizations, UN agencies, and other interested stakeholders working on traditional and Indigenous Peoples' food systems.
A full list of partners can be found below.