Our office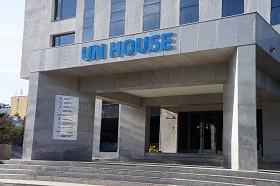 The Food and Agriculture Organization of the United Nations (FAO) has a history of partnership with the Government of Mongolia (GoM), to eradicate poverty and malnutrition through the development of the agriculture sector. It has, also, been an active partner of the government in protecting the environment and promoting sustainable development and disaster risk management strategies of the country.
In 1973 Mongolia became a member of the FAO and the country office was accredited through the FAO Office in Beijing, China. In July 2009, a dedicated FAO Mongolia Office was established in Ulaanbaatar; thus upgraded to a full Representation office in 2019. Locally, the vision of FAO Mongolia Country Office is "to be a leading, credible and responsive partner in ensuring food and nutrition security of the population".

Over the past years, FAO has supported interventions in research, natural resources management, technology transfer, food and agriculture policy, livestock production systems management, emergency and post crisis management, forestry information, statistics, food security and nutrition, emergency response operations, crop production system management, and food quality and safety.