Conference on improving water productivity in the NENA region
Background
Important improvements in overall agricultural productivity have been achieved in the Near East and North Africa (NENA) countries during the last few decades. Yields of major crops such as cereals, vegetables, olives and fruit trees have increased significantly through an expansion of irrigation, the use of adapted varieties and other intensification practices. However, the upward trend in crop production is threatened by increasing water scarcity, climatic variability and food market price volatility.
To overcome anticipated difficulties, NENA countries accepted to focus on improving water productivity (WP, production or income per unit of water used) and to develop mechanisms for regional collaboration (such as the FAO Water Scarcity Initiative).
Producing more food with less water is a straightforward objective that could be realized through using better production practices. However, in the context of the restrictions that scarcity necessitates, using water to get 'more crop per drop', while certainly an important task, is not sufficient to put agriculture on the track of sustainability. The challenge is in achieving an overall optimum in using the little water available. Clarification of the WP concept in its different dimensions - economic, social and environmental – has become urgently needed for the effective implementation of collaborative actions.
The FAO regional project "Implementing the 2030 Agenda on Water Efficiency, Productivity and Sustainability in the NENA Countries" is a major contribution in responding to the countries' expectations. Funded by the Swedish Cooperation (SIDA), the project includes components on water accounting, water productivity, the water-agriculture-energy Nexus and communications for impact.
About the Conference
Objective
The aim of the conference is to bring together experts working on improving water productivity from different perspectives to debate how WP improvements can reinforce agriculture sustainability as well as promoting economic development, maintaining social stability and protecting the environment in rural areas and cities.
Themes
The conference will bring science and policy together in order to review the status of water productivity, the challenges and innovative solutions. 
The conference will focus on three main themes:
1 Improving water productivity: progress made and innovations proposed to bridge the Water Productivity Gap
2 Measuring water productivity and monitoring performance for sustainability
3 Effectively communicating the benefits of water productivity
Expected Output
The main conference output will be a document highlighting the scientific evidence on the status of water productivity in the NENA Region. The document will also highlights innovations and recommendation for bridging the water productivity gaps while developing sound environmental and social policies for sustainable agriculture programs.
The Conference Venue:
The Palace Hotel Gammarth is located in Gammarth, a village situated in the north of Tunis.
The hotel can be easily reached by taxis from the airport (25 minutes drive away)
The historic city of Carthage is 7 km distant, Sidi Bou Said is 8 km, and Tunis City Centre is 20 km away.
The hotel address:
Hôtel le Palace à Gammarth
Gammarth
Tel :+216 71 912 000
For self payer participants : For room reservation, please send an e-mail to [email protected] and ga[email protected] with the subject line: "FAO/WP Conference 2019" to receive special rates.
Other Recommended Hotels
El Mouradi Gammarth Hotel
Tel: +216 71 274 300
E-mail: [email protected]
Ramada Plaza Hotel (Gammarth)
Tel: +216 71 911 000
e-mail: [email protected]
Transportation to the hotel
Yellow Taxis are permanently available in front of the arrival hall at the airport. Standard yellow cars use taximeters.
The fare from the airport to the event venue is normally around 50 Tunisian Dinars (about 20 US$).
In case of emergency, please contact:
Chemseddine Beltaief: +21695840153 or WhatsApp: +21695840153
Wided Khechimi: +21692776836 or WhatsApp : +33605896513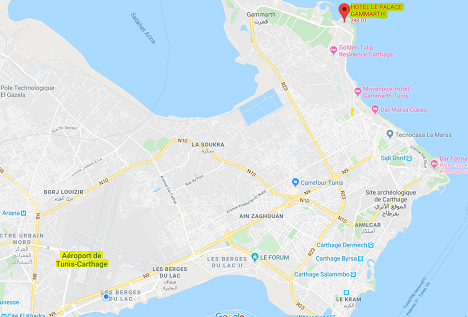 About Tunis
About Tunis
About Tunis
Tunis, located in the north of Tunisia, is the capital of the country.
Language
The official language of Tunisia is Arabic. French is the language of commerce and is spoken by the majority of the population.
Currency
Tunisia's currency is the Tunisian dinar. The December rate of exchange is around 1 USD = 2.8 TND
Climate
Tunisia has a Mediterranean climate. During December, the average temperature is between 15°C to 20°C.
It is recommended that participants pack their clothing accordingly.
Power supply
Power plugs and sockets are of type C, E and F. The standard voltage is 220V and the standard frequency is 50 Hz.
Attractions in Tunis
Attractions in Tunis
Key Attractions Around Tunis:
Sidi Bou Said: With its white domed houses and blue-painted doors, the clifftop town of Sidi Bou Said is one of the main sites to visit in Tunis. You can admire panoramic Mediterranean views and explore a plethora of art galleries, boutiques and open-air cafés. To discover the history behind Sidi Bou Said's unique architecture, visit the Neo-Moorish home of Baron Rodolphe d'Erlanger.
Carthage: You can discover fragments of history by accident in the streets of modern Carthage: the remains of the basilica of Saint Cyprien overlooking the sea, the Carthaginian houses of the Magon quarter, and the Punic ports where a striking serenity reigns.
The medina of Tunis is the historic heart of Tunis, considered one of the best-preserved Arab-Muslim cities, and has been listed as a Unesco World Heritage Site since 1979. The medina has an oval form built around the religious center of the Grand Mosque Ezzaitouna, near which multiple souks (markets) are arranged. Merchants and artisans offer an infinity of colors, flavors and scents. Around these souks with their narrow streets rise private houses.
The souks are open between 9 am and 7 pm. It is best to avoid lingering in the medina at night.
NB: Ask at your hotel's reception desk to book a taxi.
Field Trip and Program
Field Trip and Program
Field trip
The field trip will take place on Friday, December 6, 2019
Early registration is required for the field trip as only a limited number of seats are available.
The field trip is scheduled on December 6th to Kairouan Governorate situated in the center-East of the country.
Kairouan is 2 hours 20 minutes from Tunis (167 km).
Kairouan is one of the Study sites of the SIDA funded project on implementing the 2030 agenda on water efficiency, productivity and sustainability. The economy of the region is based on the agricultural sector, which provides employment for 38% of the regional workforce and stable income for 70% of the population. Olive oil is one of the major products in the region.
The field visit will include visits to:
1. l'Institut National des Grandes Culture- Kairouan Station
2. The Aghlabid basins; two remaining pools of a 15-pool water system that was among the most advanced in the world at the time. They were constructed in the 9th century.
The city of Kairouan was classified as a World Heritage Site by UNESCO owing to its historical monuments, such as The Great Mosque, The Sidi Sahbi Mausoleum and The Aghlabid Basins.
Please confirm your participation at the registration desk. More information will be shared upon confirmation
Registration for the field trip should be done ahead of time through the registration form.
Program outline
This is a new opportunity to submit an abstract for an oral or poster presentation to one of the 3 sessions related to water productivity. The deadline is 1st of October 2019 and the relevant sessions are:
Improving water productivity: progress made and innovation to bridge the WP Gap
Measuring water productivity and performance monitoring for sustainability
Communicating effectively about the benefits of water productivity
Share your work at the conference
Share your work at the conference
Are you interested in sharing your work during the WP conference?
Extended call for abstracts. Open until 1 October, 2019 (12 PM GMT).
In order to allow more experts to share their work, the call for abstract initially closed the 31 July 2019 is extended until the 1 of October 2019. In order to get a better idea of how to prepare your abstract, you can find more information about abstract submissions in the guidelines below.
To submit your abstract for review, please fill in the abstract submission form and send it together with your abstract in word format by 1 October 2019 to [email protected] indicating "Call for extended abstracts/your full name/Preferred Theme" in the subject line.
The abstracts will be reviewed by the Scientific and Organizing Committees and you will be notified with a decision regarding your submission by 30 October, 2019. Details for oral and poster presentations will also be provided.
Guidelines for Abstracts
Guidelines for Abstracts
The Collaborative Platform on Water Productivity of the FAO Regional Initiative on Water Scarcity for the Near East and North Africa is organizing the first Regional Water Productivity in Agriculture Conference from 04 to 06 December 2019 in Hammamet, Tunisia. (a pre- conference day is organized on the 3rd afternoon for information exchange and launching the hackaton).
The conference will be open to interested institutions and experts and will bring a wide range of water productivity experts, stakeholders and members of the Collaborative Platform Network together to share their knowledge and experiences and identify new ways to promote water productivity and strengthen the partnership.
A first round of call for abstracts was closed the 31st of July. This new Call for Abstracts is open until 1st of October! (Abstract + submission form)
Call for abstracts
The abstract (see guidelines thereafter) should be submitted together with the abstract submission form.
Type of submission
There are three different types of contributions:
• Abstract: Before sending the abstract please check that it complies with the Conference guidelines.
• Poster abstract: If you wish to submit an abstract for a poster to be presented during the conference, a poster session will be organised.
• Invited speaker abstract: If you were personally invited to present your abstract by the Conference host(s) and you would like your abstract to appear in the book of abstracts, please submit your abstract as well. Author guidelines for Preparing an Abstract
We kindly request you to observe the following guidelines for your abstract submission:
Document type: Word
Text font: Verdana
Font size: 11
Maximum number of words: 1100 words (2 pages)
Maximum amount of keywords: 5
Order of presented information:
Title
Presenting author
Other authors
Primary affiliation
Abstract text (maximum 1100 words)
Keywords
Abstract submission
To submit your abstract for review, please fill in the abstract submission form and send it by 1st October to [email protected] indicating "Call for extended abstracts/Your full name/Preferred Theme" in the subject line. Abstracts will be revised by the Scientific and Organizing Committees and you will be notified with a decision regarding your abstract submission by 30 October 2019 and details for oral and poster presentations will be provided.
If you have any questions about the WP Conference, please contact us at [email protected]
We hope to see you in Tunisia!
With kind regards,
The Conference Organizing Committee
Scientific Committee
Scientific Committee
The Scientific Committee
· Netij Ben Mechlia, FAOSNE
· Elias Fereres, University of Cordoba
· Hammou Laamrani, Leagues of Arab States
· Issam Nofal, Ministry of Agriculture, Palestine
· Jacques Wery, ICARDA
· Pasquale Steduto, WP Expert, FAORNE
Participation and Registration
How to Register for the Conference
How to Register for the Conference
Registration
Please note that this conference aims to enable exchange between participants and will therefore cater only for a limited number of participants.
Participants will include representatives from FAO member states, scientists, practitioners working in related fields, representatives from NGOs, civil society and farmers' associations. Participants whose abstracts are accepted will be presenters (oral or Poster presentation) and will be registered in priority.
Even without submitting an abstract, or if your abstract is not accepted, you can express your interest to attend the symposium through the online registration system. Registration will be open until 10 November, 2019
NOTE: There is no registration fee and participation in the conference is free. However, participants should bear their own travel and accommodation expenses.
Visa application
Please check here, to find out if you need a visa to attend the conference.
In order to apply for a visa, contact the Tunisian embassy or consulate in your home country. The requirements may vary per country. The staff at the Embassy can provide details.
The local organizers of the WP conference can issue an invitation letter if required. In the registration form, you can indicate whether you need an invitation letter.
Marketplace
Marketplace
About the Marketplace
Purpose: The marketplace is a space for sharing knowledge. It is a physical space where the collaborative platform on water productivity can take place. It is a space where farmers/practitioners can meet experts in an informal setting and all participants can share their knowledge, discuss the exhibited posters, tools, and contributions in a relaxed manner. The marketplace is organized around the themes of the conference.
Period of Operation: from 3rd to 6th December 2019
Set-up: Tuesday 3rd December, morning – Interactive session: Tuesday 3rd December 14.00-17.00 – facilitated session to visit the Marketplace and meet the experts. (all participants should be present)
Organisation: the Marketplace is divided into 4 areas corresponding to the themes discussed at the conference as well as 2 special areas: one for technology displays (smart technology) and one for meetings with a communication specialist to tell your stories, hold interviews, etc.
Location: the Marketplace will take be held in the same Foyer as the Coffee breaks and conference participants may start visiting the Marketplace during these breaks. We recommend that marketplace participants be present at the Marketplace during the coffee breaks.
Space available: Marketplace participants are invited to contribute to any theme. No individual booths will be allocated to organizations/programs as the objective is to facilitate exchange between people. The thematic areas will present both posters and tools/technologies, as well as publications.
Each participant interested in presenting a poster or demonstrating a technology or tool will need to inform the conference secretariat ahead of time in order to have space allocated within one of the thematic areas. The space will be shared by different partners and space will be organized within each thematic area to allow for informal presentations and discussions.
The final space allocation will be decided on the basis of requests/proposals received.
Material available for each thematic area:
2 rectangular tables (180*70 cm) for display of reading materials.
A computer will be available on one display table to allow for demonstration of web-based tools (these tools should be shared with the organizers in advance in order to set up the computers).
An area will be set aside for small group presentations with a screen, a computer, and chairs.
Discussion corners will be available with sofas or chairs
Requirements: all participants wishing to take part in the marketplace are requested to bring their own roll-ups, publications, flyers, etc. Posters should be self-standing roll ups. Participants need to bring their materials to the thematic area indicated. A volunteer will facilitate offsetting up the materials/posters, etc.
In the event that you plan to display equipment or physical tools, please inform us on the size and weight of the equipment in order to obtain clearances from the hotel and allocate the necessary space.
Conditions and restrictions:
The exhibitors are ultimately responsible for all publications, tools, personal computers and other material on display during the entire event.
The doors of the Marketplace will open every morning at 8:00 and will close each evening at 18:30.
To avoid loss or damage to any of your belongings, we encourage you to be present as much as possible in the display area during the opening times and to arrange for the safe-keeping of valuable items when you are not there.
Our group of volunteers will be available to provide support or respond to any emergency during the Marketplace hours. However, they cannot be held responsible for any theft or damage to any materials in the marketplace area.
The WP conference team remains at your disposal for any query or support needed. We really appreciate your interest and support in the organization of this exciting event, and we look forward to a successful and enriching Marketplace.
Contact details: WP Conference team e-mail: [email protected]
Annex 1: List of organizations interested in contributing to the Marketplace
(Subject to change):
1. Arab Organization for Agricultural Development (AOAD)
2. Arab Water Council (AWC)
3. United Nations Economic and Social Commission for Western Asia (ESCWA)
4. Arab Center for the Studies of Arid Zones and Dry Lands (ACSAD)
5. IHE Delft
6. International Water Management Institute (IWMI)
7. FAO Regional Office for the Near East (FAORNE)
8. FAO Sub-regional Office for North Africa (FAOSNE)
9. The International Center for Agricultural Research in the Dry Areas (ICARDA)
10. Stockholm Environment Institute (SEI) & Royal Institute of Technology (KTH)
11. Tunisian Ministry of Agriculture, Water Resources and Fisheries
12. Institute national des grandes cultures en Tunisie
13. Technopark, El Gazala, Manouba University
14. Swedish International Development Agency (SIDA)
15. Institut Agronomique Méditerranéen de BARI
16. ….
Annex 2: floor plan of a typical thematic area
The theme area may be divided in sub-themes if needed. For each thematic area the following elements will be set up on the basis of requests and proposals.
· List of publications
· List of Posters
· List of Software/database to be presented
· List of videos/documentary to be presented
Requirement: space, computer, etc.
Figure 1 - Marketplace schematic representation
Hackathon
Hackathon
Hackathon
Through the Hackathon, youths are being invited to join the conference, to discuss and understand water and land management issues and to participate in designing solutions.
Many tools and models have been developed and data generated under the regional Water Scarcity Initiative by several countries and partners. This hackathon will provide a platform that builds on these resources to come up with integrated and innovative solutions for real problems in countries of the region to support farmers' efforts to improve land and water productivity and adapt to climate change.
Proposed challenges:
Challenge (1): From the roots to the final yield: How to improve water productivity?
Challenge (2): From the reservoir to the roots: How to improve water use efficiency?
Challenge (3): Communication for impact: Which communications tools to improve The WP ?
This Hackathon brings together interdisciplinary teams of students from Tunisian universities and research institutions to tackle one of the above challenges. Teams will investigate the proposed topics by using available technologies and capabilities to improve transparency and confidence in the proposed solution in an integrated way by looking at:
• What data are available and accessible?
• What technological tools are currently available?
• How to share and combine data, tools, methods and techniques?
• What would a basic viable product look like (prototype)?
The proposed integrated solutions need to use the developed tools, methods, techniques and databases, to build a prototype "proof of concept" to support decision-making processes. This prototype in turn can become the start of a new initiative.
Selection of teams: Teams were selected from the following Tunisian institutes:
1. Institut National des Sciences Appliquées et de Technologie - National Institute of Applied Science and Technology
2. Institut National Agronomique de Tunisie - National Agronomic Institute of Tunisia
3. Institut Supérieur D'informatique - High Institute of Informatics
4. École Supérieure de la Statistique et de L'analyse de l'information – Institute of Statistics and Information Analysis
5. École Nationale des Sciences de L'informatique - National Institute of Computer Science
6. École Supérieure de Commerce de Tunis – Institute of Commerce of Tunis
7. École Supérieure d'Economie Numérique - Institute of Digital Economy
Programme:
The Hackathon is being held from October through December 2019.
1st October 2019: Kick-off of the Hackathon and briefing of the teams;
October- December 2019 : Research, development and prototype testing, feedback with technical guidance from FAO and other partner organizations and end users;
3rd December 2019: Projects presentation;
5th December 2019: Final results announcement.
Infrastructure and Resources provided:
Before the conference:
All teams will have a free access to the co-working space of the Tecknopark of Manouba.
Technical and project design coaching will be provided as well.
During the conference:
A dedicated room will be provided with internet access and special access to databases, tools and test data files.
The team members will receive full conference passes to attend the opening and closing ceremonies.
No further costs related to the participation, such as travel and accommodation, can be covered by the organizers.
Prizes: The top 3 winning teams will be receive a technological package.
Questions or comments? Please write to [email protected]
How do I enter?
How do I enter?
To enter the contest, just follow these three steps:
1. Take a photo that shows or highlights the water challenges in your country
2. Fill in the contest entry form, and attach the photo (maximum file size 16 MB) with the form and send it to [email protected].
Allowable File Types: PNG & JPG
3. Finally, do not forget to post your photo if you have a Twitter, Flickr or Instagram account, using the hashtags: #WPConference #WPPhotoContest
Deadline for entries is 15 November 2019.
A jury will choose the three best photos, and winners will be invited to the conference closing ceremony.
By submitting entries to the Contest, the Entrant confirms that the rules for this Contest have been read, understood and agreed to by the Entrant.
Rules
The Contest is open only to individuals ("Entrants") who must be 18 or over. The age to declare is that at the time of entering the Contest.

FAO employees and their immediate family members (spouses, parents, children, siblings and their respective spouses, regardless of where they live) or persons living in the same households of such employees, whether or not related, are not eligible to enter the Contest. FAO will determine eligibility at its sole discretion.

Entrants can only submit to the Contest original works for which they are the sole creator and own the copyright. Entrants must have obtained all the necessary authorizations to use the photographs for the purpose of the Contest.

If the photographs contain images of a person or persons, Entrants must have obtained the permission of those persons for submission of their images to the Contest, as well as for the use of the photographs as described herein. FAO will not be responsible for any claim or complaints alleging violation of the rights of third parties. Entrants can submit up to three photographs.
By entering the Contest, Entrants grant an irrevocable, perpetual worldwide exclusive license to FAO to reproduce, distribute, display and create derivative works of the entries (along with a name credit) in connection with the Contest and the promotion of FAO's work, in:
The FAO corporate website: www.fao.org;

Corporate videos or digital recordings to illustrate the work of the Organization;

Printed FAO publications, brochures or posters;

Social media channels, including the promotion of the Contest itself;
Any other media used by FAO in its communications.
FAO will not pay any fees for, nor pay any costs relating to, the entry of the photograph(s) in to the Contest or for their use as described above.

FAO reserves the right to verify the eligibility of any entry and/or Entrant (including an Entrant's identity and address) and to disqualify any Entrant who submits an entry that is not in accordance with these rules or who tampers with the entry process.

By submitting entries to the Contest, Entrants agree that personal data, especially name and address, may be processed, shared and otherwise used for the purposes outlined in these rules. The data may also be used by FAO in order to verify the Entrant's identity, postal address and telephone number or to otherwise verify the Entrant's eligibility to participate in the Contest. FAO is not responsible for any entries not received due to internet or software failures.

Nothing in the rules for this Contest, nor any acts performed or statements made in relation to this Contest, shall be deemed a waiver, express or implied, of any of the privileges and immunities of FAO.
Organizing Committee
Organizing Committee
The Organizing Committee Team
Abdourahman Maki, LAND AND WATER OFFICER - FAOSNE
Domitille Vallée, CTA – FAORNE
Chemseddine Beltaief, OPERATIONS ASSISTANT – FAOSNE
Hanen Kraiem, JUNIOR LAND AND WATER OFFICER – FAOSNE
Souha Yaacoub, COMMUNICATIONS OFFICER – FAOSNE
Wided Khechimi, PROJECT SPECIALIST – FAOSNE
Yousser Marrakchi, PROGRAMME ASSISTANT - FAOSNE