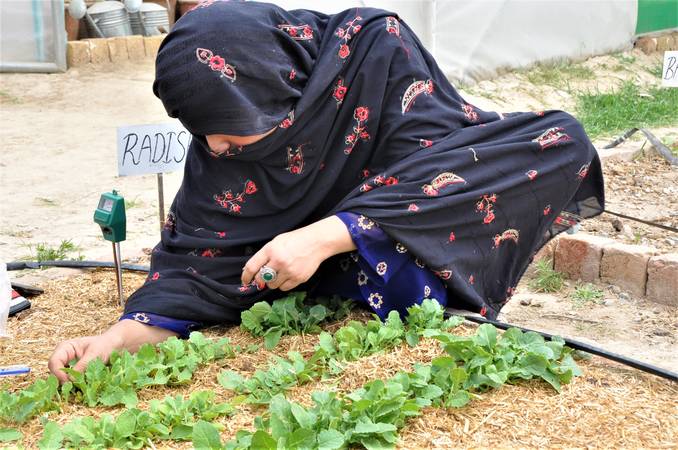 Despite her eighth grade education, 21 year-old Arfa has acquired a number of skills thanks to the many training courses offered by the FAO-Australia Balochistan Agri-Business Program (AusABBA Phase 2) that she attended. One of six siblings, Arfa comes from Panjgur, a district in West Balochistan.
Some of Arfa's friends enrolled in the FAO Kitchen Garden Training, but her family did not allow Arfa to do so as this was seen as breaking tradition. The girls started growing and distributing vegetables in the neighborhood, encouraging Arfa to convince her family to let her enroll. She went on to attend the sessions, where she learned about crop rotation, soil fertilization, and sowing seedlings, and soon began growing tomatoes and radish in her backyard. The produce sustained not only her family through consumption and sales, but also the neighboring families with whom she shared her outputs.
"People in our region consume meat in most of their meals, but we were taught by the Field Facilitators the importance of vegetables in our diet. Growing vegetables in our kitchen gardens gives us easy access and has led to a noticeable shift in cooking habits in my neighborhood. Now women cook vegetables for their families almost on a daily basis'', states Arfa. This is a vital change for Balochistan where 40%1 of the population is undernourished.
Arfa then enrolled in the Farmer Field School where she learned a new skill: to make and dye yarn for carpet-weaving. Overall, this practice has been taken up by many women in Panjgur, where they weave yarn and sell it, instead of giving away the wool as they did before. This practice has reduced transportation costs for carpet makers in Quetta, as previously the yarn had to be brought in from far away cities like Jhang.
Arfa is now attending the Business Development training as part of the AusABBA project. This is the final step in her journey from learning to grow produce to marketing and selling it. Along with 20 other women, Arfa was first given basic literacy training to understand numbers, considering the low literacy rates in Balochistan, and was then taught basic business practices. Arfa can now develop a business plan, conduct a SWOT analysis, and interact with buyers to negotiate a selling price for her products.
Previously, despite having sold some of her vegetables, Arfa was confused when she realized that she had not made any money. ''Initially we were happy with whatever money we got from sales, but after the business development training we realized that we were actually going into loss and that money inflow did not always mean profit'. She was taught to raise external finances through bank loans, which Arfa hopes to explore further but wishes loan conditions were more favorable for female farmers.
Market tours, which include interactions with vegetable vendors, have given Arfa an understanding of how wholesale markets operate. After witnessing and understanding competitive pricing, Arfa now explores ways to increase sales of her produce. For example, she is now aware of the importance of certain crops grown in Balochistan, such as dates, which are high in demand. She hopes to grow and sell them in other provinces soon.
Arfa's knowledge of growing niche crops in Balochistan coupled with the knowledge she acquired from the business development course allows her to successfully account for and estimate sales. Arfa has cleverly linked the knowledge acquired from the various training courses and put it into practical everyday use. Arfa has transformed knowledge into a viable small business for her household to participate in, and benefit from.