Tratamiento de plaguicidas altamente peligrosos (HHP)
Highly Hazardous Pesticides (HHPs) are of particular concern due to the severe adverse effects they can cause to human health and the environment. It is estimated that most pesticide poisoning cases are caused by a relatively small number of highly hazardous pesticides, particularly in low and middle-income countries.
The FAO/WHO International Code of Conduct on Pesticide Management defines Highly Hazardous Pesticides (HHPs) as:
"Pesticides that are acknowledged to present particularly high levels of acute or chronic hazards to health or environment according to internationally accepted classification systems such as WHO or GHS or their listing in relevant binding international agreements or conventions. In addition, pesticides that appear to cause severe or irreversible harm to health or the environment under conditions of use in a country may be considered to be and treated as highly hazardous"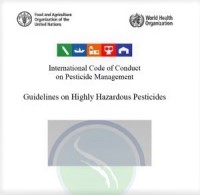 The Guidelines on Highly Hazardous Pesticides set up a step-wise process on how to manage Highly Hazardous Pesticides.
The process is organized around three key steps:
Identification
Countries analyze their pesticide registries against eight criteria to identify which products are highly hazardous. The FAO Pesticide Registration Toolkit provides a spreadsheet tool that can be used to document the HHP identification process.
Needs and risks assessment
Countries assess the actual needs and benefits for these products and their risks to human health and the environment, taking into consideration available alternatives.
Mitigation options
Countries identify risk mitigation measures. The most appropriate mitigation measures may be different for each highly hazardous pesticide and for each condition of use. A key enabling factor in mitigation is the availability of alternatives.
The FAO Pesticide Registration Toolkit provides tools for the evaluation of appropriate risk mitigation measures in the Risk Mitigation module of the toolkit.
Following the 3 steps process, FAO and its partners support countries and regions with:
Creating awareness on HHPs and their risks, by producing videos, communication materials and organizing webinars.
Building capacities of national and regional authorities to carry out the three steps approach.
Collecting data on poisoning incidences, and identifying severely hazardous pesticide formulations.
Promoting alternatives to HHPs and preventing HHPs use.
Coordinating all relevant stakeholders and ongoing efforts to reduce harms associated HHPs.