Leading the Field Initiative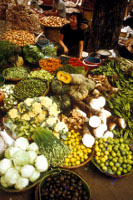 An estimated 75% of plant genetic material has been lost over the last 100 years and we have become dangerously reliant on only a few varieties of rice, potatoes, maize, wheat, beans and other staple foods. Given the potential enormity of the food crisis facing the world, the 7-10 year breeding cycles for most crops and the pressing need for investment now, the Treaty is committed to making its $116 million resource mobilization effort – Leading the Field – a great success.
Leading the Field requires multiyear investments at the highest level from governments, foundations, corporations, philanthropists and interested others. A tiered structure has been adopted to help provide prospective public sector donors with guidance on funding levels, with Spain making the first Tier I investment at nearly $3 million. A number of countries are considering "top of the tier" contributions at Tier I, II and III levels. Task Force members are meeting on a regular basis to help focus and drive the initiative.
The International Decade of Biodiversity, from 2011–2020, creates an opportunity to raise awareness of the importance of crop diversity and make real progress toward achieving food security, alleviating poverty and adapting to climate change.
Booklet - Case for Support
Booklet - Case for Support
Case for Support
The Treaty's Benefit-sharing Fund is a unique mechanism which finances high impact projects supporting farmers in developing countries, addressing food security, adaptation to climate change and agricultural biodiversity.
Thanks to the two first project cycles, one million people have benefited from activities directly or indirectly, most of whom are small-holder farmers.