Food waste reduction

Food waste is the decrease in the quantity or quality of food resulting from decisions and actions by retailers, food services and consumers (SOFA, 2019). Large amounts of nutritious edible food are often unnecessarily wasted and discarded by households, restaurants and retailers.
There are many factors that influence food waste and numerous ways in which the food is wasted. These range from consumer behaviour patterns, habits and knowledge to shelf life and various marketing strategies employed by retailers to optimise profits.
Due to a lack of awareness or knowledge, consumers often shy away from fresh produce such as fruits and vegetables that do not have a desirable appearance or have become discoloured despite still maintaining their nutrition value and remaining safe to eat. This wasted food has many profound effects on environmental sustainability, food security, rural development and economic factors such as livelihoods. As such, reducing food waste is a crucial step in achieving the world's Sustainable Development Goals (SDGs), especially SDG 2 (End Hunger) and SDG 12 (Ensure sustainable consumption and production patterns).
This page provides access to a collection of relevant resources and information produced by FAO and other external parties on the various aspects related to food waste. The resources have been grouped into several categories relevant to the main theme of each article and the list of these are accessible through the links below:
Awareness raising in schools to reduce and prevent food waste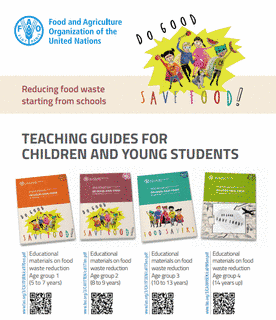 This is a series of an educational-engaging package designed to educate young people to value food and reduce its loss. The goal is to raise awareness among school children, teachers, staff and their related families and networks on food loss and waste issues and introduce good practices conducive to food waste reduction, with an expected long-term impact.
This 'education package' named "Do Good: Save Food!" consists of different modules that can be used by teachers in class and to plan lessons and activities on the issue. The content is adaptable and interactively designed to enable teachers & educators to select and implement components they consider to be most pertinent to the cause depending on the needs related to time availability, knowledge and age of the students, curriculum context etc.
These package is expected to contribute for significantly reducing food waste in schools and households (both the plate and kitchen waste) and related negative socio economic and environmental impacts.
The set of Teaching guides is available in various languages:
Age group 5-7 years old (Albanian, Croatian, French, Hungarian, Lithuanian, Ukrainian, Turkish)
Age group 8-9 years old (Albanian, Croatian, French, Lithuanian, Hungarian, Ukrainian, Turkish)
Age group 10-13 years old (Albanian, Croatian, French, Hungarian, Ukrainian, Turkish)
Age group 14+ year old (Albanian, Croatian, French, Hungarian, Ukrainian, Turkish)