Innovation in family farming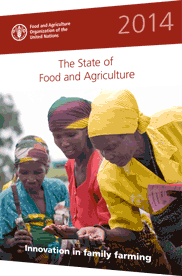 More than 500 million family farms manage the majority of the world's agricultural land and produce most of the world's food. We need family farms to ensure global food security, to care for and protect the natural environment and to end poverty, undernourishment and malnutrition. But these goals can be thoroughly achieved if public policies support family farms to become more productive and sustainable; in other words policies must support family farms to innovate within a system that recognizes their diversity and the complexity of the challenges faced.
The State of Food and Agriculture 2014: Innovation in family farming analyses family farms and the role of innovation in ensuring global food security, poverty reduction and environmental sustainability. It argues that family farms must be supported to innovate in ways that promote sustainable intensification of production and improvements in rural livelihoods. Innovation is a process through which farmers improve their production and farm management practices.
Key messages
Family farms are part of the solution for achieving food security and sustainable rural development; the world's food security and environmental sustainability depend on the more than 500 million family farms that form the backbone of agriculture in most countries.


Family farms are an extremely diverse group, and innovation systems must take this diversity into account.


The challenges facing agriculture and the institutional environment for agricultural innovation are far more complex than ever before; the world must create an innovation system that embraces this complexity.


Public investment in agricultural R&D and extension and advisory services should be increased and refocused to emphasize sustainable intensification and closing yield and labour productivity gaps.


All family farmers need an enabling environment for innovation, including good governance, stable macroeconomic conditions, transparent legal and regulatory regimes, secure property rights, risk management tools and market infrastructure.


Capacity to innovate in family farming must be promoted at multiple levels. Individual innovation capacity must be developed through investment in education and training.


Effective and inclusive producers' organizations can support innovation by their members.
About the series
The State of Food and Agriculture, FAO's major annual flagship publication, aims at bringing to a wider audience balanced science-based assessments of important issues in the field of food and agriculture. Each edition of the report contains a comprehensive, yet easily accessible, overview of a selected topic of major relevance for rural and agricultural development and for global food security.

For more information contact Terri Raney, Economic and Social Development Department