Areas of work
FAO provides technical expertise across numerous work areas directly linked to the United Nations Framework Convention on Climate Change (UNFCCC) requirements to support countries as they become ready for REDD+ and later, during the implementation phase.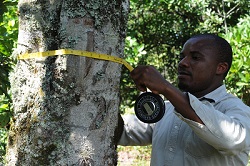 The evolution of REDD+
FAO works with countries to build national capacity for REDD+ under the guidance of UNFCCC. REDD+ has been evolving since 2007 through successive agreements by the Conference of Parties of the UNFCCC with FAO's technical support following the same path, adapting to meet the demands from countries advancing in their REDD+ efforts.
Through the enhanced national REDD+ capacity, countries have also helped to shape the emerging global REDD+ architecture, including the Warsaw Framework and the Cancun Agreement - an important part of the 2015 Paris Agreement on climate change. The implementation of REDD+ activities is also seen as a catalyst for strengthening efforts to implement the 2030 Agenda for Sustainable Development and countries' Nationally Determined Contributions (NDCs).