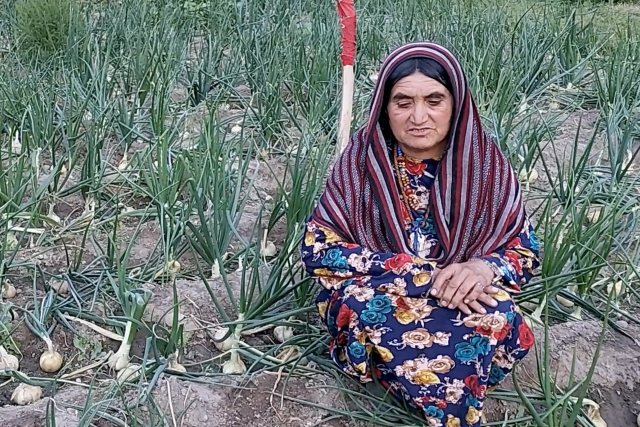 Bibi's garden of empowerment
Tags
:
AFGHANISTAN
,
NEAR EAST
,
VULNERABLE COMMUNITIES
,
FARMERS
,
FOOD INSECURITY
,
FOOD SECURITY
,
LIVELIHOODS
,
CASH ASSITANCE
,
VEGETABLES
,
VEGETABLE PRODUCTION
,
RESOURCE PARTNERS
,
DENMARK
,
CASH-BASED TRANSFERS
,
09/02/2021
Women increase their income and improve their family's food security and nutrition through kitchen gardening thanks to the support provided by FAO in Badakhshan province, Afghanistan
Bibi Aqiq, 58, gets ready to start picking the vegetables in the garden. "I couldn't imagine this produce when I planted it, and in no way having a surplus to sell in the market," says Bibi looking at her crowded garden. She can't hide her satisfaction with the quality yield she has produced.
Bibi heads one of the 4 500 vulnerable families that have received an emergency agriculture package in Badakhshan province. This kit includes wheat seeds and fertilizers, a home gardening package and specific training, all of that thanks to funding provided by Denmark.
"The whole family had been living out of my son's teacher salary for several years. We were constantly in a precarious situation. That salary wasn't enough for us ten," explains the Afghan widow farmer.
A garden for women's empowerment
Bibi lives in Ishkashim district, one of the most remote areas of Badakhshan Province, in Northeastern Afghanistan. Winter is harsh in Ishkashim. The district is usually covered by snow for months. But the overall climate is warmer than in most neighbouring areas. Over 80 percent of the working age population in Ishkashim district work on agriculture and livestock activities, but surprisingly enough, growing vegetables is not common.
"At first, we did not know much about how to cultivate of vegetables and its benefits," says Bibi, who allocated 0.5 jeribs of land (0.1 hectares) to grow the various vegetables.

[...read the full STORY]