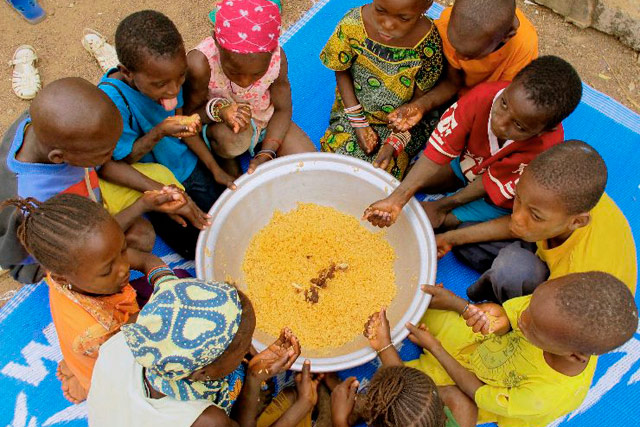 Purchase from Africans for Africa - First knowledge sharing workshop held in Dakar
Tags
:
MALAWI
,
MOZAMBIQUE
,
SENEGAL
,
NIGER
,
ETHIOPIA
,
BRAZIL
,
UNITED KINGDOM
,
RESOURCE PARTNERS
,
SHARE FAIR
,
KNOWLEDGE SHARING
,
SOUTH-SOUTH COOPERATION
,
PARTNERSHIP
,
03/06/2013
Around 50 representatives from participating countries and partners, including the Food and Agriculture Organization of the United Nations (FAO) and the World Food Programme (WFP), gathered in Dakar, Senegal in April for a three-day workshop to share experiences, expectations and challenges in promoting a local food purchase initiative in Africa.
The initiative – Purchase from Africans for Africa (PAA Africa) – was launched in 2012, with funding from the Government of Brazil, to promote food and nutrition security and income generation among vulnerable farmers and communities in Ethiopia, Malawi, Mozambique, Niger and Senegal.
Inspired by Brazil's food purchase programme – part of the country's successful "Zero Hunger" campaign – PAA Africa buys cereals and legumes from smallholder farmers to supply local school feeding programmes. It is a partnership between FAO, WFP, the Government of Brazil and the United Kingdom's Department for International Development (DFID).
South-South cooperation
In his opening remarks at the April workshop, Senegal's Prime Minister Abdoul Mbaye noted that PAA Africa was an expression of political will from the leaders of the participating countries, and an excellent model of South-South cooperation.
"I really appreciate this partnership because it is not only based on good practices from the Brazilian PAA...it is also a strategic opportunity for the development of horizontal cooperation with African countries through the support of Brazil, FAO, WFP and DFID," he said.
Essential to that partnership is the regular exchange of knowledge and experiences. Round table discussions, working group debates and presentations during the workshop helped shed light on the challenges of carrying out PAA Africa in the different countries, as well as sustainable solutions and ways forward.
Win-Win
PAA Africa is a win-win situation, helping farmers process and sell what they produce, while ensuring that school children have nutritious and diverse meals. With USD 4.5 million in funding from Brazil and DFID, FAO is assisting vulnerable farmers to boost their production, providing them with agricultural inputs such as seeds and fertilizer, improving their access to processing equipment and training them on seed quality, integrated pest management and post-harvest storage. WFP, in turn, is providing farmers with a reliable market through its Purchase for Progress programme, linking up with school feeding programmes.
Next steps
As PAA Africa moves in to its second phase, efforts are being made to deepen the engagement and ownership of governments – essential for ensuring sustainability in the medium and long term.
This means further developing government institutional capacity and facilitating dialogue between local food purchase initiatives and public policy. It also entails fostering dialogue with government sectors, such as agriculture and education, but also others like health, social protection and finance, and increasing civil society involvement.
Many smallholder farmers simply lack the technical support or inputs to engage in profitable markets, often selling their surplus produce at a low price. That is why improving their access to quality seed, setting up partnerships with national and regional microcredit initiatives and providing technical assistance on farmer cooperative management, post-harvest management, storage and processing, marketing and food quality standards are so important, said workshop participants.
By fostering direct government involvement in local food purchase initiatives – and by offering flexible procurement models – PAA Africa also makes it possible to have more varied food baskets. The pilot project in Malawi, for example, has been experimenting with a decentralized model that lets schools buy a range of food directly – from cereals and pulses to fruit, vegetables and animal products.

PAA Africa