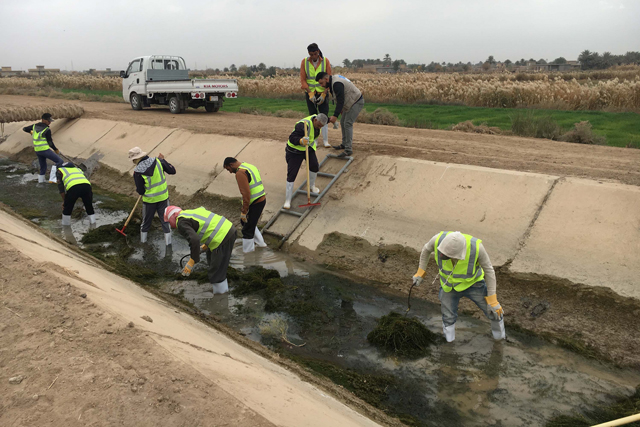 Cash continues to support conflict-affected Iraqis to recover post ISIL
Tags
:
IRAQ
,
NEAR EAST
,
CONFLICT
,
HUMANITARIAN CRISIS
,
CASH-BASED TRANSFERS
,
CASH FOR WORK
,
FAO CASH AND VOUCHER TOOLBOX
,
DISPLACEMENT
,
AGRICULTURAL PRODUCTION
,
IRRIGATION
,
REHABILITATION
,
LIVELIHOODS
,
WOMEN
,
WORLD HUMANITARIAN DAY
,
15/08/2018
FAO's cash-based programmes support smallholder farmers and other vulnerable people who are particularly exposed to the impacts of conflict, protracted crises, climate change, natural hazards and economic shocks. In Iraq FAO is supporting vulnerable displaced, returnee and host community families affected by conflict, particularly in areas retaken from the Islamic State of Iraq and the Levant (ISIL), through cash for work. The programme aims to ensure households are able to meet their food requirements, and the cash earned also supports the local economy. Activities undertaken by participants include rehabilitating irrigation canals, clearing nurseries and re-building agricultural infrastructure. Cash-for-work programmes provide equal opportunities for women and men to participate.
Displaced shouldn't mean dismissed. Join the #NotATarget movement to demand world leaders protect civilians in conflict.
Here is what men and women who have benefited from the cash-based programme have to say.
Khamees Kurdi Abed
Khamees and his family returned to their village, Saqlawiyah, and struggled to reestablish a normal life after many months spent away from home. He has a family of four, but is also supporting his sick father who is in hospital, his brother and his family of six. 
Before the crisis, the family's main livelihood was farming, growing vegetable and wheat. They used to live a happy life until they lost all their agricultural assets when ISIL took control of their village.
Khamees had been trying to find a job to support his extended family but it was difficult. "I used to work one day and stay home for three or four days without work," he says.  After joining the FAO cash-for-work programme and earning needed income, Khamees is optimistic that things will improve, and hopes to return to farming and maybe even own livestock, as he had before, to support his family.
Jenan Kareem Kurdi
Jenan, a mother of five children, lost her husband and her son in the conflict with ISIL and lives with her three young daughters. Her widowed daughter with her own two children also live with her.
The family had been displaced from Saqlawiyah village and had lived in camps for displaced people in Ameriya. She returned to her village home last September to re-start her life, however she was lacking support.
FAO visited the family and briefed Jenan about a cash-for-work programme being implemented in her village.
"It was an exciting moment for me and my children to hear about this opportunity," she said, adding that she planned to prepare and develop a piece of land near her house to grow vegetables. "It was exactly what I needed," Jenan added.
In the village, it is difficult to engage women for labour in public spaces. With the guidance of FAO's implementing partner, she started to earn money through cash for work and was then able to transform the land into a home garden. She plans to sell the excess vegetables she grows.
The programme will also benefit Jenen's longer-term health. "I was suffering from a hernia but I had no money for the medical tests. Now, with the USD 500 I received for 25 work days, I can finally get the tests and will then undergo surgery."
Wahed Ahmed
Wahed, 48 years old, was displaced from his small village in Daquq District.
"I had my own house with some land, where I was growing some vegetables to sell and to feed my family. When I was forced to flee in August 2015, the militants took everything we had," he said. "When I returned to my village, we found that everything was lost and the situation was very grim."
Wahed started looking for work near his village to provide for his familiy. He learned that FAO was offering short-term employment opportunities for returnees. 
"Local authorities informed us that the work consisted of cleaning water irrigation canals and restoring roads from the farms to local markets. I worked for 25 days and received USD 500 through via my personal mobile, which was set without requiring any bank account," he said. "This income enabled me to buy what was necessary to repair our house and to meet basic family needs. I hope to have more days of work in the near future."
Adela Thaweb
Adela, 45, was working as a driver in the village of Edriskhabz. His household comprises nine members.
"As a driver, I was earning a good income before the conflict. When the situation deteriorated I decided to move my family to a safer place," he said. "Through a partnership FAO had developed with our locality, I could enroll myself in the cash-for-work programme. The income enabled me to pay medical expenses for my parents, to buy food and afford my family's basic needs."