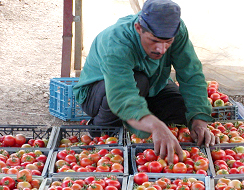 Despite constraints, FAO helping Gaza farmers
21/02/2008
Projects target herders, fishers, horticulture - Despite restrictions which make it hard to import essential inputs, FAO is helping restore agricultural production and improve farmers' livelihoods in the Gaza Strip through a series of emergency projects. Eighty percent of Gaza's population is currently dependent on food aid and locally-grown produce is a vital source of fresh food.
FAO currently has 14 projects running in the West Bank and the Gaza Strip, with the bulk of activities (85 percent) involving the West Bank. But according to experts the most serious area of humanitarian concern is Gaza, where agriculture and fisheries have been badly hit by the lack of inputs, constraints on farm exports and restrictions on fishing areas.
The lower volume of assistance going to Gaza largely stems from the fact that getting international goods and equipment into the area is almost impossible.

FAO News