Detailed Livelihood Assessment in 28 Flood-affected Districts of Pakistan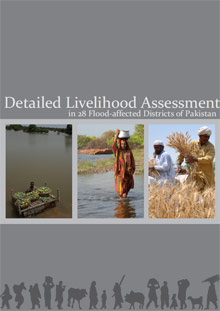 Feb 2012
In July 2010, torrential monsoon rains caused flooding of an unprecedented magnitude affecting the entire length of Pakistan. One year after the floods, the National Disaster Management Authority (NDMA) together with the Pakistan Food Security Cluster (FSC) decided to carry out a multi-agency assessment Detailed Livelihood Assessment (DLA) in 28 flood-affected districts across Pakistan to investigate the status of household recovery and priorities for continued assistance.
The DLA had three main objectives: (i) to evaluate the extent to which rural households have recovered from the 2010 floods in terms of livelihoods and food security; (ii) to give insights on the impact and effectiveness of interventions designed to support livelihoods and food security recovery; and (iii) to understand problems and issues which remain unresolved for livelihood recovery and the implications for future programming.
Results of the DLA were subsequently used to help guide the development of the FSC Guidance on Emergency and Recovery Interventions for 2011-2012 for Sindh and Balochistan Provinces.

Detailed Livelihood Assessment