Livelihood Recovery Appraisal of households affected by flooding in 2010 and 2011 in Sindh and Baluchistan
Tags
:
PAKISTAN
,
PAKISTAN FLOODS 2010
,
PAKISTAN FLOODS 2011
,
ASIA
,
LIVELIHOODS
,
FLOODS
,
SINDH PROVINCE
,
BALUCHISTAN PROVINCE
,
FOOD SECURITY CLUSTER
,
NEEDS ASSESSMENT REPORTS
,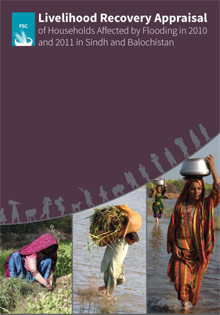 Mar 2013
As a follow up to the Detailed Livelihood Assessment (DLA), the Pakistan Food Security Cluster conducted a Livelihood Recovery Appraisal (LRA) which looked at households in Sindh and Balochistan affected by flooding in 2010 and/or 2011.
The LRA focuses on three groups of flood-affected households or "flood cohorts": 1) households affected only by floods in 2010; 2) households affected only by floods in 2011; and 3) households affected by floods in both 2010 and 2011.
The objectives of the survey were to (i) evaluate the extent of household livelihood and food security recovery; (ii) understand the impact and effectiveness of interventions designed to support recovery, and (iii)  identify current and future programming priorities.
The report recommends four priority thematic areas for continued support to recovery; details cross cutting areas for improvement in programme targeting and coverage and; highlights the importance of supporting the resilience of households and communities at risk of flooding.

Livelihood Recovery Appraisal