FAO-Italian Cooperation - Building resilient livelihoods through the value chain in the West Bank and Gaza Strip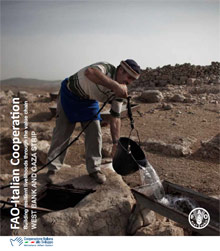 Jun 2013
In the West Bank and Gaza Strip (WBGS), vulnerable families cannot access many basic needs owing to recurrent conflict and restrictions over movement, natural resources, markets and services. Their ability to cope is under severe strain.

Small-scale farmers, herders and fishers are among the hardest hit populations, despite the potential of agriculture to reduce reliance on imported food, minimize vulnerability to international price hikes and increase economic access to food by enhancing employment and income. The loss of Palestinian land, destruction of key agricultural assets (including water structures) and limited access to farmland, grazing areas and sea continue to sever the rural poor from their livelihoods.

Since 2004, FAO and the Italian Cooperation have worked together to address multiple challenges faced by Palestinians in maintaining their livelihood. Thousands of families now have greater, more sustainable access to vital livelihood supplies and services through activities such as rangeland rehabilitation (using drought-tolerant shrubs), the establishment of mobile veterinary centres and the installation rainwater cisterns and grey wastewater treatment units – which are maximizing scarce water resources.
In addition to basic livelihood inputs such as seeds and fertilizer, families also received training to improve their farming practices and better link their products to markets. Italy-funded activities have focused on the economic empowerment of women – working through women's associations to capitalize on the knowledge, skills and motivation that women have in relation to the agriculture sector.

FAO - Italian Cooperation partnership