FAO-European Union - A shared goal of eradicating extreme poverty and hunger in the West Bank and Gaza Strip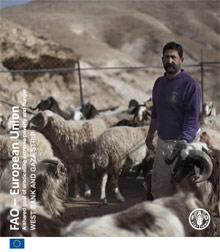 Jun 2013
Since the European Union (EU) became a member of FAO in 1991, the two institutions have built a strategic partnership contributing to the achievement of United Nations Millennium Development Goals (MDGs), particularly MDG 1 – "reducing by half the proportion of people suffering from hunger by 2015". Rooted in these shared goals, FAO-EU projects have helped communities in the West Bank and Gaza Strip tackle serious constraints to their food and livelihood security.
Availability of and access to water is one of the largest problems Palestinian farmers and herders face. Israeli authorities extract over 80 percent of water resources in the West Bank, leaving Palestinians with inadequate amounts of water to irrigate their orchards and crops. Further, since 2007 the region has suffered from severe weather conditions and rainwater scarcity affecting agricultural productivity. Restrictions in accessing land and establishing or rehabilitating water wells have also severely impaired farmers from realizing their potential.
In response, EU funding in 2011 focused on improving agricultural water availability and demand management. Five hundred rainwater harvesting cisterns were established and rehabilitated in the West Bank, enabling an estimated 37 609 cubic metres of rainfall to be captured or harvested per year. The rehabilitation works were implemented through a "cash transfer" modality, creating a total of 32 000 days of employment for nearly 2 200 skilled and unskilled workers. Each family benefitting from the structures will save roughly USD 200 every month on water costs.
In 2013, EU funding is contributing to develop institutional capacity related to livestock, animal health and food safety. Under one such project, FAO is providing support for relevant policy development, the drafting of legislation and strategic planning, and technical assistance for the implementation of relevant Codex Alimentarius and World Organisation for Animal Health standards.

FAO-European Union brochure