FAO/WFP Crop and Food Security Assessment Mission to Central African Republic, 7 April 2014
Tags
:
CENTRAL AFRICAN REPUBLIC
,
CENTRAL AFRICA
,
CAR CRISIS
,
CRISIS
,
AGRICULTURE
,
HUNGER
,
CEREAL PRODUCTION
,
CROPS
,
FOOD SECURITY
,
REPORT
,
FAO-WFP
,
CFSAM
,
NEEDS ASSESSMENT REPORTS
,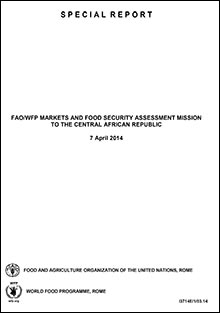 Apr 2014
Highlights
The Central African Republic (CAR) is gripped by unprecedented civil conflict and insecurity severely affecting economic activity and devastating livelihoods.
In 2013 the Gross Domestic Product was 28.3 percent less than in 2012 while the agricultural sector contracted by 36.9 percent.
Imports from neighbouring countries declined by 25.7 percent in 2013 and the movement of locally produced food commodities from surplus producing areas to deficit areas was severely restricted.
The departure of Muslim businessmen who managed most of the trade and transport activities has severely impacted on the availability of food commodities. Commerce and transport sectors are currently a fraction of their pre-crisis levels.
Prices of most agricultural commodities are currently lower than their pre-crisis levels due to a depressed local demand which more than compensated for the sharply reduced supply. By contrast, prices of meat and fish are well above their levels of early 2013.
The 2014 lean season started at least two months earlier, exacerbating the strain on coping mechanisms of vulnerable groups. Serious food access constraints are observed with the dietary diversity and intake of animal proteins drastically diminished. This has raised serious concerns in terms of nutrition and health that may entail longer term consequences, particularly for children.
Prospects for the 2014 cropping season, beginning from March/April, are grim given the level of insecurity and lack of agricultural inputs.
A humanitarian system-wide Level 3 emergency response, whose immediate objective is saving lives and protecting livelihoods, was declared on 11 December 2013.
About 1.25 million people, directly affected by conflict, are receiving food assistance for about eight months (January-August 2014). However, as of March 2014, only about one-third of the required funding is secured, necessitating incomplete food baskets and half ration distributions. Overall, 1.6 million people are estimated to be in need of urgent food assistance.
The onset of the rainy season is expected to disrupt the already inadequate road transportation network, limiting the window of opportunity for humanitarian interventions. Pre-positioning of agricultural inputs and food stocks is also becoming a huge challenge.
All indications are that it will be a long and expensive humanitarian operation over at least the next 18 months, particularly if the current agricultural season is missed.
A multi-sectoral intervention is warranted to restore livelihoods by simultaneously creating effective demand through increased liquidity (cash transfers) and investing in human capital, particularly women, to improve agricultural production, trade and market access, child nutrition, health and education. Revitalization of community savings and loans (tontines) through cash transfers, such as quality seed multiplication would go a long way in rebuilding local economies.

FAO/WFP Crop and Food Security Assessment Mission to Central African Republic, 7 April 2014