FAO-Government of Belgium - Reinventing productive economy in the West Bank and Gaza Strip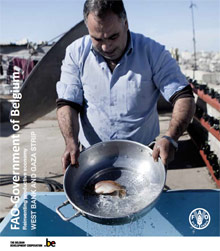 May 2013
Agricultural livelihoods and food security for the 1.6 million Palestinians in the Gaza Strip have been devastated by the ongoing blockade since June 2007, only partially eased in June 2010. The blockade policy consists of tight restrictions on the movement of products, services, and people in and out of Gaza. Further, it greatly limits the import and export of various goods, ranging from building materials to agricultural produce, resulting in the collapse of private sector activity and soaring unemployment.
The situation was exacerbated by Operation Cast Lead (December 2008 – January 2009), which resulted in widespread destruction and loss of cultivated lands, livestock and poultry farms, agricultural infrastructure and productive assets. The population has been forced to adjust and find solutions for their extraordinary circumstances.
Since 2009, the Government of the Kingdom of Belgium has supported efforts to increase the food security of Palestinians in the West Bank and Gaza Strip through innovative and practical interventions, specifically in the field of urban agriculture and aquaponics. The livelihoods of thousands of families have been supported, giving them access to new sources of food and income to meet their most essential needs and build their resilience to future shocks.

FAO-Government of Belgium Partnership