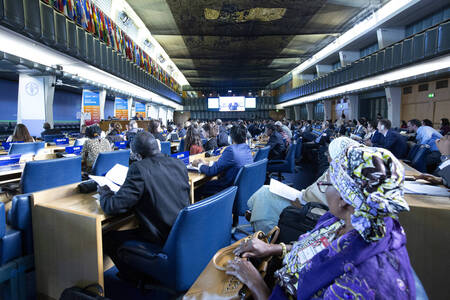 Created in 2017, the Friends of the Right to Food Group in Rome meets every two or three months to provide a space for Member States, Advisory Bodies to the Committee on World Food Security (FAO) and FAO to coordinate actions geared towards promoting the realization of the right to adequate food.
Convened and facilitated by the FAO Right to Food Team of the Inclusive Rural Transformation and Gender Equality Division, the Group provides a valuable information-exchange and constituency-building platform. Participants can explore complementarities and synergies in their work, and seek opportunities for collaboration in support of rights-based policies for poverty reduction, gender equality, and food security and nutrition.
At present, the Group is comprised of officials from the Permanent Missions of 18 Member States: Argentina, Brazil, Burkina Faso, Costa Rica, Czech Republic, Dominican Republic, Finland, France, Germany, Kenya, Malawi, Mexico, The Netherlands, Norway, Peru, Senegal, South Africa and Switzerland, in addition to the Civil Society and Indigenous People's Mechanism of the CFS, the International Development Law Organization (IDLO) and the Office of the Special Rapporteur on the right to food.
The Group welcomes participation by interested Permanent Missions of Member States in Rome.