Kenya became a low-middle-income country in 2014 and is East Africa's strongest economy. Nevertheless, it simultaneously holds the highest number of unemployed youth in the region. The Kenya National Bureau of Statistics estimates unemployment amongst youth aged 20 - 24 years at 19.2 percent.
Addressing the youth employment challenge is particularly urgent given that 70 percent of Kenya's population is below 30 years and the median age is 19. Furthermore, the country is growing rapidly, at 2.5 percent annually, and is forecasted to reach a population of 66 million by 2030 and 91.5 million by 2050.
In particular, more should be done to harness the potential of the agri-food sector in the country to contribute to the creation of decent jobs for young people. Agriculture contributes to 25 percent of gross domestic product (GDP), 65 percent of exports and employs approximately 60 percent of the total labor force employed. Yet, according to Kenya Youth Agribusiness Strategy (2017–2021), only 10 percent of youth are directly participating in the sector. Even though this percentage seems excessively low compared to neighbouring countries, there is a general trend of youth moving away from agriculture and rural areas as a whole.
See also: ICA Kenya Rapid Context Analysis at: http://www.fao.org/3/ca7341en/CA7341EN.pdf
ICA priority entry points
In collaboration with the Ministry of Agriculture Livestock and Fisheries (MoALF), support the implementation of the Kenya Youth in Agribusiness Strategy with youth-centred value chain support in the counties of Siaya and Kakamega.
Support the rollout of the 47 Champions initiative to identify young women and men role models in the agri-food system, in partnership with Ministry of Public Services, Youth and Gender Affairs (MoPSYGA), Kenya Climate Innovation Centre (KCIC), Youth Enterprise Development Fund (YEDF), and the Council of Governors.
Generate knowledge on rural youth financial inclusion, youth opportunities in selected value chains, and rural youth's information and communication ecosystems.
Strengthen existing youth-in-agribusiness associations and networks at the county level.
COVID-19: Voices of young agripreneurs in Kenya
Effects of COVID-19
On the personal side, many respondents reported that their physical and mental wellbeing has been adversely affected. Several youths are feeling stressed and frustrated because of the COVID-19 disrupting their lives, fearing about safety for them and their families, worried about the future post-crisis. On the positive side, some remarked how the lockdown created more time for self-care and family bonding.
Workwise, the major consequences of COVID-19 reported by young entrepreneurs include:
Loss of income/job: More than one third of respondents experienced the loss of income or a job. Due to movement restrictions (including a 7pm to 5am curfew) many businesses either closed or significantly reduced working time and labour force, while for agribusiness consultancies getting a remote job seems impossible. Casual wage workers had to stop going to work and lost their source of income.
Loss of market outlet: 24 per cent experienced the loss of a market outlet due to the closure of markets, restaurants, and hotels, with wholesalers no more collecting fresh produce at the farm. As a result, they cannot sell their products or have to do it at lower prices. Similarly, they can't buy inputs for their agricultural activities.
Reduced social interaction: 20 per cent answered that restrictive measures prohibiting gatherings have negatively affected their professional and/or private lives. For instance, young farming promoters cannot deliver their trainings and coaching activities and youth-led model farms cannot receive visits for farming lessons.
Higher business cost and financial hurdles: 9 per cent answered that the cost of transportation or raw materials increased and the same percentage said that they cannot pay debt, bills or rents for house and business premises.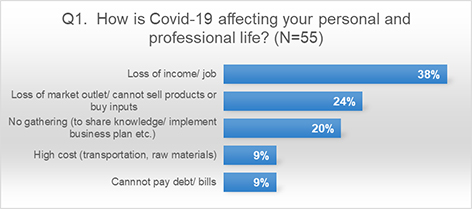 Coping with the crisis
While one out of five respondents did not mention any coping strategy other than staying home, some entrepreneurs found new business opportunities or ways to improve their skills out of this crisis:
Alternative marketing/selling strategies: 15 per cent found alternative ways to market and sell their products like delivering products door to door, selling at farm gate or online. Some looked for alternative customers, for instance hospitals or supermarkets, because their existing customers live far and they are unable to travel.
Improved health practices: 13 per cent improved their health practices including washing hands frequently, using sanitizers and keeping the physical distance.
Remote work: 13 per cent answered that they work from home including managing their farms nearby, in some cases with the help of family members instead of farm workers.
Online training: 9 per cent utilize their time staying home to acquire new skills online and explore modern agricultural practices or possible future investments. Young community workers or agricultural advisers are teaching online or using WhatsApp for awareness raising.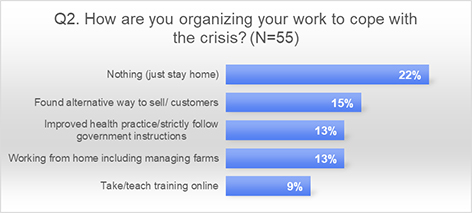 Interventions needed
The support that young entrepreneurs need includes the following:
Financial support: 35 per cent of respondents requested financial support for their family and/or business survival. This includes cash, no or low-interest loans, waivers for loans, bills and taxation. They also would welcome in-kind support or subsidized farm inputs including land, seeds, feed supplies.
Health supplies: 24 per cent reported that they need health supplies because they are so expensive and scarce that they cannot buy them.
Food supplies: 22 per cent answered that food supplies should be provided for the most vulnerable groups.
Information: 20 per cent claimed that they need more information on COVID-19 and its prevention methods because they are very afraid of it but do not feel that enough information is available for them.