Small and landlocked, Rwanda is a youthful and densely populated country in Eastern Africa. It is also one of the fastest-growing economies in Africa. Driven by public investments, between 2007 and 2017, the country grew on average 7.5 percent annually.
Nevertheless, the country faces important youth employment challenges, especially in terms of high rates of working poverty and underemployment. Time-related underemployment affects 30 percent of employed people, while around 2 million people are in subsistence farming. As a result, especially in rural areas, poverty remains high, with 49 percent of rural residents living in poverty compared with 22 percent in urban areas.
In spite of these numerous constraints, Rwanda's agri-food system development has potential to induce more job-rich growth. The government has prioritized agriculture as one of the key economic sectors in the country's transition into a middle-income country and has emphasized the importance of value addition, commercialization, and resilience to climate change.
See also: ICA Rwanda Rapid Context Analysis at: http://www.fao.org/3/ca7717en/CA7717EN.pdf
ICA priority entry points
In collaboration with the Ministry of Agriculture and Animal Resources (MINAGRI), support the development of a Youth in Agribusiness Strategy.
Generate knowledge on youth opportunities in the horticultural sector and provide technical support and capacity development for youth to access them.
Collaborate with other FAO initiatives aiming at boosting youth access to agri-finance in Rwanda, such as the ongoing design of a Technical Assistance Facility for Youth (TAFY).
Strengthen the capacities of the Rwanda Youth in Agribusiness Forum (RYAF) and other youth networks to facilitate youth participation in agri-food value chains and policy dialogue.
COVID-19: Voices of young agripreneurs in Rwanda
The Rwanda Youth in Agribusiness Forum (RYAF) adhered to the youth engagement initiative launched by FAO ICA programme by launching a special Youth Knowledge Exchange session on April 2, 2020 addressing the key consequences and potential implications of COVID-19 for youth-led agribusinesses. The online consultation was conducted both in English and Kinyarwanda using RYAF social media platforms, including Twitter, Facebook, Instagram and WhatsApp groups.
Effects of COVID-19
RYAF members reported being affected by the lockdown strategy to contain the outbreak as follows:
Blocked access to the business sites and to services including extension, equipment, inputs and seeds
Huge post-harvest losses on produce/products that were ready for sell (e.g. chicken meat, bananas, milk, horticulture) including for businesses targeting export markets, as frontiers were closed and some of the needed equipment, materials and facilities were not functioning
Loss of previously negotiated prices because of falling demand, resulting in reduced revenues and earnings
Disrupted business planning affected by the uncertainty of when the pandemic will end – including new agribusinesses being delayed, disrupted and put on hold
Lack of financial means to keep the production running in view of the next expected harvest with high risk of produce shortage in the coming seasons
Reduced labour demand as workforce is reduced as a protection measure against the pandemic
Social insecurity due to the people who fled the towns going back to rural areas and increased thefts in the farms
Coping with the crisis
The ways young entrepreneurs are coping with these hard moments include:
Working from home using ICT infrastructure for business management (phone call, WhatsApp groups, etc.)
Depending on the value chain node operated, doing usual farm operations including planting
Reducing the number of workers to apply the 1m social distance rule
Changing market plan and planting other crops rather than letting the land idle
Using ICT and social media to get updated information on the pandemic and learn about alternative practices to get ready for being back to business
Intervention needed
RYAF put forward a proposal to set up an Emergency Fund for Youth in Agribusiness as a short to mid-term mitigation strategy for supporting youth whose fragile businesses will have been hardly hit by the pandemic. The Fund could be in the form of loans with subsidized interest rates, to facilitate reviving the value chains and help youth-led businesses gain the right pace quickly and efficiently through inputs, farm equipment, extension services, production technologies, aggregation, value addition and marketing. In the words of Jean Baptiste Hategekimana, RYAF Chairman, "Youth are already having limited capacities and options to access finances […] We hope with youth innovative capacities and with the existing and ongoing contract negotiations on good markets, this fund would be enough to help the youth being the agents of agricultural transformation".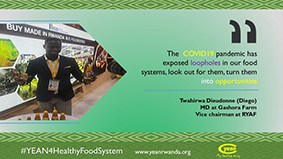 The country lockdown, in place since March 21, is expected to come to an end on April 30. As the Government of Rwanda partially lifted the restrictive measures for farmers and key actors along the agri-food value chain, several businesses are already resuming their work, including agricultural exports.
RYAF launched a second Youth Knowledge Exchange on April 28, 2020 to collect young agripreneurs' views on the post-lockdown scenario: how they plan to pick up their businesses, what are the lessons learnt and which interventions could mitigate the consequences of the lockdown. Again, the online consultation will be conducted on RYAF social media platforms and WhatsApp groups.
⇒ Check RYAF Instagram account for daily updates and videos from young members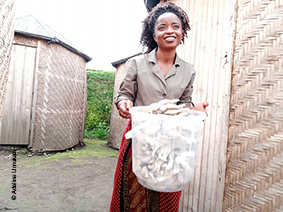 Adeline: changing business model to survive the crisis from wholesale to direct selling
Umukunzi Adeline, 25 years old, runs a mushrooms business in Musanze district, in the Northern province of Rwanda. Her daily harvest is 100kg of mushrooms per day. She is one of the young agripreneurs trained by the East African Farmer Association across Rwanda, Uganda, Kenya and Burundi. With the COVID-19 outbreak and consequent lockdown, she's experiencing severe issues with transport, marketing and communication with her customers.
Due to the closure of hotels, restaurants and other wholesalers who exported her mushrooms, she now needs to resort to direct sale to individual customers, in an effort to place her fresh produce timely as she owns no facilities to store and refrigerate unsold goods. The costs of running her business have increased overall as she needs more facilities and materials to transport and deliver the mushrooms door to door, to customers who buy in small amounts.
Nevertheless, Adeline is doing her best to cope with the emergency by advertising her products on social media and asking current customers to spread the word in her district. She has increased her labour force and bought a bicycle to be able to expand her delivery route, while respecting the government policy and the necessary hygiene standards (using face mask and hand sanitizers). All the above is costing Adeline a significant amount of time and capital.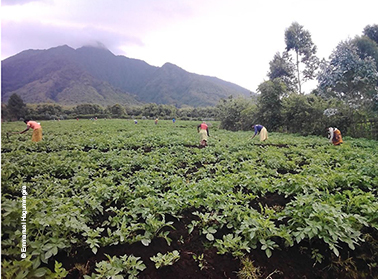 Emmauel: a seed potato farmer wishing to shift his business online
Hagumiragira Emmanuel is a young agricultural graduate from Rwanda and member of ICYEREKEZO KINIGI COOPERATIVE. He is engaged in seed potato multiplication but thanks to its background he also supports members in implementing and scaling up agricultural practices and expert advice.
The COVID-19 pandemic and consequent movement restrictions enforced across the country have affected his business by exponentially reducing marketing opportunities for his high-quality seeds. They are now only sold in the local market and this has led to falling prices and reduced income. On the other hand, all planned workshops, trainings, field trips were canceled. He would never imagine his professional and personal life could suffer such a big disruption.
Although he lacks a market for his product, he cannot afford to stop farming. Following the government measures against COVID-19, he can cultivate the land by deploying few farmers and maintaining social distance in the field. Instead of imported agricultural inputs, now too expensive and hard to access, he is using pesticides, fungicides and fertilizers that are available locally.
As the situation evolves, Emmanuel is unsure of what steps to take to mitigate risk, protect employees and support customers. In the medium to long term, implementing a remote work policy for his business seems the best bet, along with a digital sales strategy to keep in touch with customers via email or social media. But this comes with challenges linked to the shortage of infrastructure (computers, smartphones) that can enable team members to effectively work and communicate online.
Finally, Emmanuel wishes that institutions could respond to the crisis with financial facilities such as grants for young agripreneurs to restore their business after the emergency. He would use a grant to buy new pre-basic seeds and to repay loans he was forced to put on hold.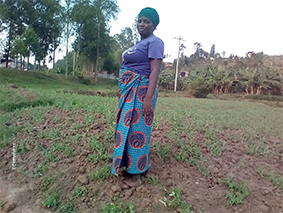 Emmerance and Robert: planning to upgrade storage facilities but struggling for funds
Emmerance Nyanzira and Robert Nsihizirungu, 30 and 35 years old, are co-founders of Nature of Life Ltd., a vegetable agribusiness in Kamonyi, in the southern province of Rwanda. With the #StayHome directive, their professional life was paused and they are worrying about eroding their capital. As their farms are 5 km from home, they are struggling to get there during a critical time when most of their vegetables are ready to harvest. At the same time, their customers have closed their businesses, so they are selling their produce at lower prices in rural markets near the farms. Compared to the cost of production, the company is experiencing huge losses. Additionally, the harvest is bigger than their current storage capacity and they are struggling to find the means to extend the shelf life of their vegetables.
To face the economic crisis, they are planning to upgrade their storage facilities and apply post-harvest loss reduction practices and technologies. They are trying to live closer to the farms and to keep up the production so they can market and supply enough food during the pandemic and in the coming months.
They are working hard but struggling to find support or funds that would allow them to cover the big gap created by COVID-19 in the company's activities. They would require financial support to procure seeds, fertilizers, post-harvest loss reduction material or toolkits and pesticides. They are also lacking the means to pay manpower and have no means to access loans or grants.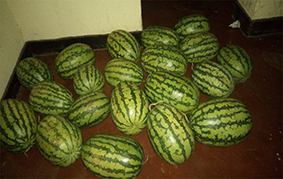 Jean Claude: overcoming double loss to restart a business
Jean Claude Rukundo is an agronomist based in Ngoma, in the Eastern province of Rwanda. In 2018, together with a boy and girl fellow agronomists, all in their 30s, they started the NGOMA INVESTMET Ltd., with 3ha dedicated to the production of watermelon, passion fruit and tamarillo. Last year they had already lost their passion fruit production due to a pest spread in the entire Eastern region, and this year they faced a flooding in the farm, which waterlogged the production. The watermelons that were left remained unsold due to the COVID-19 lockdown and in lack of proper storage facilities they were lost or partially consumed by their own families. In the face of this double loss, which means restarting the business from zero, Jean Claude and his associates are looking for other sources of income as they have no collaterals to access a loan. They need to access new investments to restart their business and cover the cost of production for passion fruit and tamarillo.
Florent: calling for financial support and mentoring
Florent Usengimana, 27 years old, runs a modern pig farming business named NEW VISION in Musanze, Northern Province of Rwanda. The COVID-19 #StayHome measures and consequent closure of hotels and pig slaughters have meant for him the loss of market opportunities and income, which has led to scarcity of means to buy feed for the animals. In order to cope with the crisis, Florent is looking for non-conventional market targets and working harder, at the same time that he tries to manage well the stock and his savings. He calls for advice and business counselling to overcome the emergency in the immediate term, along with financial measures that take into account the normal difficulties faced by youth to run a business with a small starting capital.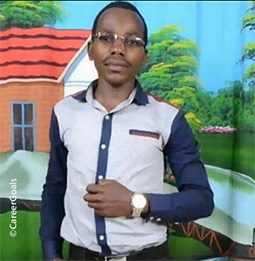 Timothy: a circular economy business in stand-by
Timothy Ntakirutimana is the managing director of Career Goals Ltd, a company producing liquid fertilizers from urine in Gasabo District, Rwanda. The urine is collected from institutions such as primary and secondary schools, then brought to the processing location and distributed to local farmers to help them increase their production.
Due to the closure of schools during the COVID-19 lockdown, it has been difficult to continue working on the collection and processing of urine into fertilizer. Struggling with losses, they are struggling and praying to overcome these obstacles but continue to work hard to reach their business targets, hoping to make a positive impact on local farming production, on their community and the country development.
While they wait for local institutions to reopen to be able to collect more urine, the company is exploring ideas to make the processing more efficient and use the existing stock of urine liquid they had collected and stored before the lockdown, for the transformation of compost. They hope to receive strategic advice on what they can or should do to overcome the present challenges and wish to increase their entrepreneurship skills and activities.